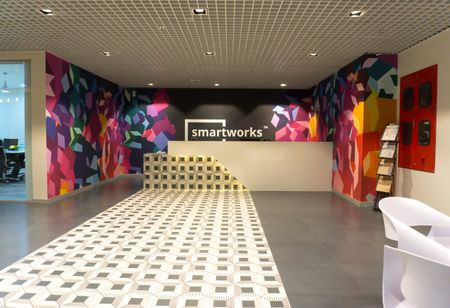 CEO Insights team
Smartworks, one of the leading providers of agile workspaces announced the leasing of two new facilities in Delhi NCR; one on Delhi-Noida Expressway and the other in Gurugram. Spanning more than 3 lakh sq.ft in total with a combined seating capacity of 6,500 seats it provides impetus to the company's aggressive expansion plans. With this, Smartworks increased its footprint in Delhi NCR to over 4 lakh sq.ft spread across 6 centres.
Commenting on the occasion, Neetish Sarda, Founder, Smartworks, says, "Since inception, we have already invested over USD 30 Mn in the business. This coupled with our focussed strategy targeting the enterprise segment has resulted in us being the only profitable startup in this space in India. We are constantly adding new facilities to our portfolio leading to exponential growth of our footprint. In addition, riding on our brand effect, developers have reached out to partner with us and in process we have locked in over 2 Mn sq.ft of built to suite facilities which will come up in 2 years . We have exceeded our internal targets and our very bullish of reaching our ambitious goal of setting-up 20 m sq ft of agile workspaces across India over the next few years".
Focusing on enterprises, Smartworks actively develops collaborative technology solutions like smart amenities like laundry and grocery, smart security and smart parking services to deliver a seamless experience to members. Along with that, it facilitates various amenities including a crèche, gym, cafes and sleeping pods among others. According to a report by Cushman & Wakefield, a property consultant, co-working players leased nearly 5 million sq.ft. of space and it is the highest ever annual leasing recorded for the co-working segment.

"Delhi NCR is one of the leading metros where the office space dynamics are witnessing a shift. Several large enterprises who are focussed on reducing overall costs for office spaces prefer agile workspaces as it leads to cost savings of more than 15 percent-30 percent on enterprise level. Gurugram and the Delhi-Noida Expressway are two of the most important business hubs in North India, with several large domestic and international firms, across sectors, either establishing or expanding their footprint here. Our two new centres aim to address the continuously growing demand for agile workspaces in metro cities," Neetish added.

Spreading across 20 locations in nine cities (Delhi NCR, Kolkata, Bengaluru, Mumbai, Hyderabad, Chennai and Pune) Smartworks caters to more than 500 organizations across large enterprises, SMEs and start-ups. Founded in April 2016, Smartworks redefines the Indian office experience by focusing on design, hospitality, technology and customer delight experience.