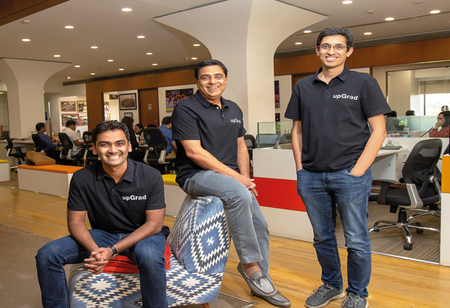 Recently, upGrad for Business, the B2B arm of Asia's one of the EdTech major, upGrad, announced its partnership with Welspun India Limited, one of the global leaders of home textiles. This companionship purposes to cultivate and reinforce the data culture at Welspun, by upskilling 119 employees in Data Analytics in order to drive more efficient business decisions.
The manufacturing sector is now enduring a shift from outmoded manufacturing processes to deploying Nextgen technology to facilitate automation and digitization. The digital alteration in the manufacturing market was valued at USD 263.93 billion in 2020 and is probable to reach USD 767.82 billion by 2026. Therefore, to equip their employees with the right mindset, skillset, and toolset to be future-proof, Welspun is upskilling their employees with upGrad's Data Analytics Certification program.
upGrad for Business will be delivering scheduled and curated preparation with Welspun-focused periods and incident studies to ensure significant understanding for the learners. The certification program will be proposing an immersive learning practice to the Welspun workforce, counting essentials like online self-learning, instructor-led live sessions, coaching & mentoring, practice, feedback, and assessment, among others, to enable them to make more data-driven efficient business choices backed by numbers and factual interpretation. Thus, building a stronger data culture with a higher analytical workforce within the organization. This is a part of organizational productivity excellence path at Welspun.
"We are delighted to partner with Welspun and help empower their workforce with the right tools to build a robust data culture. Our mission of bringing wholesome talent development to companies meets with the learning ideals at Welspun.We believe in equipping people with the right skills to create a talent ready environment, especially for the Manufacturing sector. With Industry 4.0 adoption increasing across the world, the need for Data Analytics, Robotics and IIOT will be critical as India has already commenced digital manufacturing operations," said Minaxi Indra, President, and Head, upGrad for Business.
"We at Welspun firmly believe in adapting to the changing times. As we power through dynamic times we must prepare towards being future ready. The Certification Program on Data Analytics is Welspun's initiative to prepare its teams for the future by launching programs that seek to build know-how and application of Predictive Analytics, AI/ML use cases, towards optimising our resources as we leap ahead," said Rajendra Mehta, President & CHRO, Welspun India Limited.