Zuellig Pharma, NICVB & NIHE Launches Project to Supply Vaccines in Vietnam with eZCooler Technology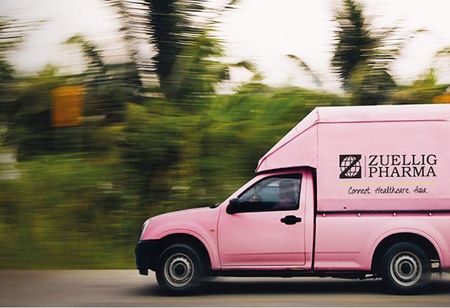 CEO Insights team
Zuellig Pharma, one of the largest healthcare services in Asia partners with the National Institute of Vaccines and Medical Biologicals (NICVB) and the National Institute of Hygiene and Epidemiology (NIHE) to widen the access to vaccines in Vietnam with the use of eZCooler, a sophisticated new packaging solution that makes sure that temperature of sensitive products are maintained till the last mile of transportation.
Commenting on this, Dr. Doan Huu Thien, Director, NICVB, says, "To meet the goal of the EPI, we faced many challenges such as access to local health centers in remote areas, changes in temperature through different seasons and regions, and limited transport systems in remote areas. The importance of maintaining the cold chain to protect the prescribed temperatures during transport is crucial in helping to ensure the integrity and quality of pharmaceuticals as well as patient safety. We highly appreciate the support from Zuellig Pharma Vietnam to share the innovative eZCooler technology to benefit the Vietnamese community. It definitely creates a premise for the sustainable development of the cold chain supply chain in Vietnam".
The project which was initiated by Ministry of Health (MOH) in 1981, has benefitted millions of women and children. It aims to support the Vietnam Expanded Program on Immunization (EPI) with the aid of World Health Organization (WHO) and UNICEF. The project guarantees that the highest standards of cold chain for vaccines will contribute to the success of the EPI.
With a target to improve the proportion of vaccination in areas which are geographically difficult to reach, Zuellig Pharma will supply eZCooler with three capacities (8 litre, 12 litre and 96 litre) in six northern provinces. Also, the vaccines must be stored at a temperature between two degree Celsius to eight degree Celsius.

Marc Franck, Chief Executive, Zuellig Pharma Vietnam, comments, "According to Business Monitor International, Vietnam's healthcare expenditure was estimated at US$16.1 billion in 2017, representing 7.5 percent of its GDP and the figure will grow at 12.5 percent a year to $22.7 billion by 2021. Vaccines and cold chain products make up a significant part of this expenditure. Zuellig Pharma is honored to contribute our innovative solutions to this project to ensure that everyone in the country has easy access to vaccines. We have been entrusted by companies around the world to undertake the supply of pharmaceuticals for nearly a hundred years in Asia and 20 years in Vietnam. Today, we are happy to be able to share our expertise and technology with the Vietnamese government and will work closely together with all parties to make healthcare more accessible in the country".

The $600,000 project was launched by Dr. Doan Huu Thien, the Director at NICVB and other reputed dignitaries at the meeting include, Dr. Nguyen Minh Hang, Vice-Director - Medical Preventive Center, MOH; Nguyen Dinh Anh, Director – Communications, MOH; Dr. Doan Huu Thien, Director, NICVB; Beatrice Mallor Maser, Ambassador - Switzerland to Vietnam; John Davison, CEO, Zuellig Pharma; Yves Hermes, Area Director - Southeast Asia, Zuellig Pharma and Marc Franck, Chief Executive, Zuellig Pharma Vietnam.

Zuellig Pharma was established in 1999 and being one of the largest multinational pharmaceutical service providers, it focuses a lot on various social responsibility activities, and works to promote the development of the industry in the country. The company now has over 13,000 employees and the team serves over 350,000 medical facilities in 13 places in Asia. It strives to deliver relevant tailored solutions, coupled with critical market insights, to enable our healthcare partners to best connect with and understand the Asian markets.