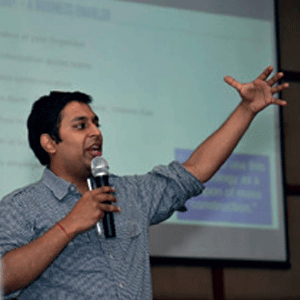 Success is never the finish line that others set for you, but something that you define your own. Even while being a stellar banker on the plush trading floors of Royal Bank of Scotland (RBS) in London, Nitin Jain (Co-Founder, OfBusiness) had one such definition of success for himself. He aspired to put his signature over something of his own, big & influential. While a dream flaming inside, the 'uncomfortable' comfort zone at RBS started to take over his sleep and to make the things even worse, some health issues threw him into a state of depression. But for some fighters, challenges are the oxygen of soul and so were for Nitin. He banked on this bitter episode in life to chisel himself into a much stronger version, gaining a lot of perspective on the way.
From the comfortable banking job, Nitin moved back to India and became a strong leader & a top individual contributor solving problems for SMEs across the tier 2/3 cities of the country. With a vision to become one of the world's largest a venture from scratch, solve networks of SMEs, he co-founded OfBusiness – a technology-driven SME financing platform that adds value to hundreds of SMEs beyond financing. What wins eventually is Nitin's endless entrepreneurial spirit, which ensures that it's not just about sustaining the business, but about creating value by constantly innovating and scaling up. As he continues to climb up, it's an auspicious occasion for CEO Insights to indulge in an interaction with Nitin.
An IITian class-topper & silver medalist, who chose to start his career with RBS, is now a growth-hacker for SMEs. What was the inspiration behind this transformation?
Within two years from joining RBS as an Analyst, I was promoted from Analyst to Associate and VP – fastest growth for any Analyst. Though I was doing exceptionally well, I was not satisfied as I was not helping the business at the grass-root level. I always wanted to create
a venture from scratch, solve burning business problems, and create large scale impact.

Having worked in a developed country, I found India as an ideal geography to bring that professionalism in. As a developing country, India has countless business problems and inefficiencies that lead to a lot of opportunities. This by far has been the best decision I have ever made in my life.

Those India-centric craters are not just opportunities, but also huge challenges. How did you leverage your international experience to change the game and make people believe in you?
I had to reinvent my style and relearn everything that I had learnt in the past seven years in London. The added challenge was to develop an effective business model and it was initially very difficult to convince traditional businesses to adopt our way of working and think in a different direction. I worked insanely hard, and even spent a good month initially in a small town called Guntur to get hold of the way business is really done in small cities.

"Nitin's endless entrepreneurial spirit ensures that it's not just about sustaining the business, but about creating value by constantly innovating and scaling up"

My investment banking experience honed my analytical ability and makes me great at multitasking, numbers, and working with ambiguous information. I've also cleared all three levels of the CFA charter program, which gave me a strong finance foundation of how to read balance sheets and understand how businesses are structured, and what do the lenders typically look at. This came in handy while we built up our NBFC, and I'm now able to advice our SMEs how to think like large organizations and manage cash flows in a much better way. My experience at RBS and in India has given me that unique ability to handle people in white color and blue color jobs with utmost ease.

What about the startup team and the 'OfBusiness' journey?
When I decided to join Asish, Ruchi, and Bhuvan, to co-found OfBusiness, no one had any defined role. We all were there to figure out how we could build one of the largest SME networks in the country and this was our single-minded focus. I currently lead sales and have been responsible for building out our business – to help the SMEs get financing and cheaper raw material. We have created a niche in the market, where we are not competing with other banks and
NBFCs,but are competing with the creditors and this helps unlock a lot of value for the SMEs. It's easy to be a value sustainer, but adding value is what excites me the most.

We have been through three equity fund raisings and must have interacted with at least a 100 equity and debt investors. We got funded just because of our rock-solid team and a bunch of happy customers.

You have been a frequent invitee at leadership conclaves and a panelist on the FICCI, CII and CCI events. How else do you socialize and connect with the budding entrepreneurs?
I was recently invited by the Ministry of MSME for the Make in Odisha conclave to speak about the opportunities and challenges that MSMEs currently face. I write articles on LinkedIn occasionally and one recurring theme you would find there is that I love to give back to the entrepreneurial community that has given me so much. I spend a lot of time in training the young budding leaders within our company as well.

How has been the support from your family to venture into something new and how do you manage your work-life balance today?
It was difficult to convince them initially; once they were convinced, my family lined up behind me as a strong supporting system. My family today includes my co-founders as well. Personal life definitely takes a hit when you commit so much and focus completely, but that's where this support system comes into play.

Key Management:
Nitin Jain, Co-Founder
An IITian, Nitin possess priceless experience of handling Structured Products desk for RBS and taking care of the European markets with clients such as BMW, Volkswagen & Telecom Italia.

Strengths& Weaknesses:
Nitin is still a hardcore techie. He is exceptional with multi-tasking, rallying people behind his decisions, finding opportunities where others tend to give up, and guiding young budding leaders, while agreeing that he is slightly impulsive at times.

Hobbies:
•Travelling
•Coding on Raspberry Pi
•Movies

Favorites:
•Destination:
Udaipur, Kovalam, Interlaken, & Paris
•Food:
Thai Cuisines