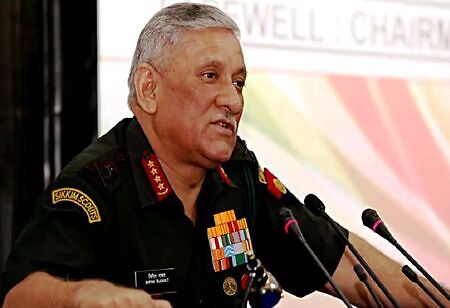 Leaving behind a footprint is not just a satisfactory element; its immense reflection manifests even more than what words could possibly describe. The life of a national servant holds important chapters in history, and CDS General Bipin Laxman Singh Rawat is one among them, perhaps in more than one way. He was born on 16 March 1958 in Puri District of Uttarakhand and belongs to a family that accounts for three generations of contributions to the Indian Army. His father Laxman Singh Rawat was from Sainj village of Pauri Garhwal district and rose to the rank of Lt General.
Rawat received his formal education from Cambrian Hall School Dehradun and St. Edwards School in Shimla. In 1997, he obtained graduation from Defense Services Staff College Wellington and the higher command course at the United States army command and General Staff College at Fort Leavenworth Kansas. He did an MPhil degree in Defense studies as well as diplomas in management studies and computer science from University of Madras. In 2011, Rawat was honored with honorary doctorate by CSS University Meerut for his research on military-media strategic studies.
General Rawat was the first sitting Chief of Army Staff to be appointed in India. On December 17, 2016 General Bipin Rawat had taken over the wheels of the Indian Army from General Dalbir Singh Suhag, as the 27th Chief of Army Staff (COAS). Days after the government announced the creation of the Chief of Defense Staff (CDS) post, retiring Army chief, General Bipin Rawat, was appointed the first tri-service chief. He carried the service from December 31, 2019.
Service to Indian Army and Awards Honoured
In 1978, December an alumnus of the National Defense Academy (NDA) and the Indian Military Academy (IMA), Rawat was commissioned into the Indian Army in the same unit as his father, the fifth battalion of eleven Gorkha Rifles. Rawat was a veteran of counterinsurgency warfare and has served in some of the most difficult terrains of India, including the northern and eastern commands. During his 43 years in service, Rawat served as a Brigade Commander, General Officer Commanding-in-Chief Southern Command, General Staff Officer Grade 2 at the Military Operations Directorate, Colonel Military Secretary and Deputy Military Secretary in the Military Secretary's Branch and Senior Instructor in the Junior Command Wing. He was also a part of the United Nations Peacekeeping Force and has commanded a multinational brigade in the Democratic Republic of Congo.
Rawat's contribution to Indian Army is enormous; he was involved in dipping the militancy in the Northeast, with one of the highlights of his career being the 2015 cross-border operation into Myanmar in which the Indian Army successfully responded to an ambush by NSCN-K militants. The mission was conducted from the operation command of Dimapur-based III Corps under Rawat's supervision. He was also a part of the planning of 2016 surgical strikes, in which the Indian Army went across the Line of Control into Pakistan-occupied Kashmir.
Apart from this, till 2019, Rawat had given statements warning India to be prepared for a simultaneous war on two fronts against China and Pakistan. In September 2017, during a seminar in Delhi, Rawat said, "Warfare lies within the realm of reality, along India's borders with China and Pakistan, even though all the three countries have nuclear arms."
As of 2021, India had service–specific commands system joint and integrated commands, which is also known as unified commands and is further divided into theatre or functional commands and they are currently being set up and more are proposed. In February 2020, Rawat said two to five theatre commands may be set up. The completion of the creation of theatre commands, both integrated and joint commands, will take a number of years. Indian Air Force opposed the formation of unified theatre commands citing limitation of resources.
On 15 September 2021, while speaking at an event in the capacity of the CDS at the India International Centre in New Delhi, General Rawat also seemed impressed upon the theory of clash of civilizations with respect to the western civilization and China's growing relations with countries like Iran and Turkey. As of next day of Rawats statement, on 16 September 2021, India's Minister of External Affairs S. Jaishankar conveyed to his Chinese counterpart that India does not subscribe to any clash of civilizations theory.
In early 2021, Rawat called the Indian Air Force a "supporting arm" of India's defense network and infrastructure. Air Chief Marshal R.K.S. Bhadauria made a public statement in response that the IAF served a bigger role than a supporting arm.
During Service General Rawat honored with Param Vishisht Seva Medal, Uttam Yudh Seva Medal, Ati Vishisht Seva Medal, Vishisht Seva Medal, Yudh Seva Medal and Sena Medal.
On December 8, 2021, General Rawat's life was cut short after a tragic chopper crash in the Nilgiri Hills in Tamil Nadu in which his wife and 11 others were travelling even they are confirmed dead on same disastrous helicopter accident.
Rawat and his wife were cremated according to Hindu rituals with full military honors and 17-gun salute at Brar Square crematorium in Delhi Cantonment on 10 December 2021. Their cremation was carried out by their daughters, who took their ashes to Hardwar and immersed them in the Ganges at the on 12 December. Leaders from all across the world extended condolence on demise of CDS General Bipin Rawat.