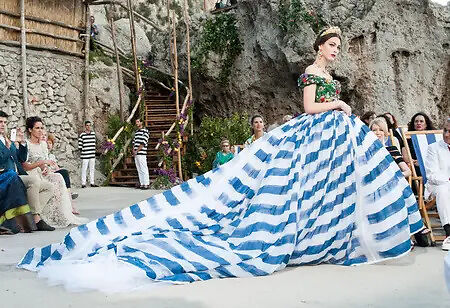 At this year's Grammys, Lizzo wowed viewers with her Dolce & Gabbana outfit with handmade silk flowers with degraded effect. The story behind Dolce & Gabbana is new to the scene among other luxury fashion names. But with their passion of infusing Italian culture in all of their designs, Dolce & Gabbana made history that rings a tune with fashion lovers all over the world.
The Beginning
The company was established in 1985 and made a great entrance on the fashion market. Dolce & Gabbana's background includes a distinctive style that appeals to fashion enthusiasts all over the world thanks to their passion for incorporating Italian culture into all of their designs. Here is a brief overview of Dolce & Gabbana's past.
The beginning of the success story was two guys who had $1500 in their pockets. Since then, the brand has excelled in its line of apparel and accessories for women. Both designers previously served as assistants at a Milanese atelier. They both became well-known together in 1985 after realizing they shared the same passion.
In 1985, they debuted their first line of women's clothing. They have not turned back since the initial show's triumph. Later, they began with a line of menswear. Italian, Hong Kong, and Japanese stores all offered a line of distinctive scents for purchase. Bohemia served as an inspiration for both designers. This is evident in their collection, which is dominated by dark hues with animal designs. For them, creating clothing is like producing a movie.
On the basis of a story they develop, they design clothing. Gangster boss pinstripe suits, patterned coats, etc. are all included in D&G. Various advertising efforts are always supporting their women's range. In 1996, both designers decided to combine their passions for music and fashion. They produced a song on their own and used the phrase 'D&G is love' in it.
The D&G Company achieved a 400 million pound profit by 1997, at which point they announced their intention to retire at the age of 40.
In 2010, Dolce & Gabbana launched a shop in Melbourne, Australia. Finding a location for the store was challenging, but they eventually located a spot on Collins Street, right in the center of the city. They no longer have a romantic relationship, but their work relationship is getting stronger every year. ? Since Domenico Dolce and Stefano Gabbana's company was introduced in Milan thirty years ago, they have gone a long way. Despite coming from different parts of the country, they managed to make a splash when they made their debut at a Milan fashion show.
How The Brand Sold
The target audience for this upscale company now consists of 65 percent women and 35 percent men. Both men and women fall within the age range of 25 to 65. But Dolce & Gabbana also targets a younger clientele (15 to 25 years old).
We can infer from the Dolce & Gabbana target market that your sector appeals to people with spending power or a medium-to-high or high income level. One of the reasons they use a marketing mix strategy is for this reason. Here, they consider the product, the price, the communication, and the distribution.
The unique thing about the situation is that this business has always understood how to differentiate itself from the competition by achieving its goals with an effective action plan. Achieving a perception of luxury and quality among each of its customers has also been a clear goal, keeping in mind that the public that is interested in luxury fashion is still looking for exclusivity.
The core intent being replacement of the brand, the designers induced values of Dolce & Gabbana. Thy paid homage to vibrant diversity of family structure, by asking fans to post images on their websites and social media feed with the #DGFAMILY. As a result, a significant amount of content was cooked up on social media and the brand clocked its year end profits at 1,055.9 million euros.
Onto the brand's logo which continues to be the same ever since the time of its foundation, clearly shows its endurance over time especially in an evolving world of marketing and brand awareness.
The Intrinsic Detail of the Logo
There are three logos that are placed with that particular product or collection line. The first is capitalized bolded black letters spelling out Dolce & Gabbana. The second is an abbreviated version spelling out Dolce and Gabbana. The last one is rarely circulated since it is specifically purposed for lavish and valuable products and its visual is elegant. This logo is created with a futura font, decorated with dark gold with a laurel wreath placed in the center of the names and a crown placed on top of the names. It represents royalty, sophistication and confidence.
To start with, the logo was created with a sense of modernity and timelessness and has indeed been proving that over years. Firstly, the font used in the logo is the modified version of Futura typeface. Crafted by Paul Renner this font represents forwardness and modernity.
That is due to the reason that both founders Domenico Dolce and Stefano Gabbana believe that one must dive into the past to amplify the modernity
The bold woodmark and capitalized letters may not appear extraordinary, but do emphasize power and elegance from that very simplicity of its form. Tiffanys & Co also shares a similar woodmark, except that Dolce & Gabbana is separated by an ampersand that is conspicuously smaller than the words. This ampersand was made intentionally that resulted in a solid and subconscious memorability. Besides the reduced size of the ampersand, enabled the prominence of Dolce and Gabbana. Due to this disproportion, Dolce & Gabbana are able to introduce the concept of something 'bigger' and 'smaller'. The bigger wordings of 'Dolce' and 'Gabbana' indicate a subliminal understanding of the brand's grandeur and brilliance.
In a way, the brand's logo represents the effect of minimalistic designs with minimalism expressing objectivity and simplicity that solely convey the fundamentals of the message.
The hues in the logo are of three which are black, white and dark gold. Black represents power, prestige and excellence, whereas white basks in simplicity and minimalism. Together, the brand exerts its belief in the impact of minimalism in establishing power and luxury. As for the dark gold hue, it represents wealth and prosperity to uphold elegance of the logo. When fused with black, the gold takes on a darker shade known as old gold.
The wreath - symbolizing the god Apollo for youth and beauty, is of course, goes without saying that Dolce & Gabbana is purely inspired by Italian culture and modernity.
The last one, a monarch crown, represents the timelessness that aged through the years of fame and love. It indicates the luxurious and unconventionality of the brand, that sparks a resonation with people from different walks of life.