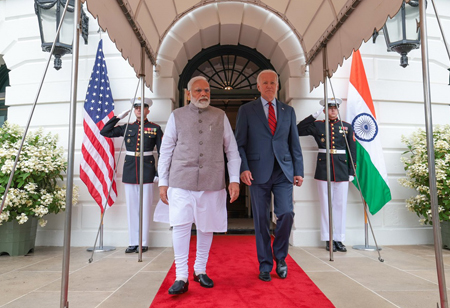 Once regarded as the world's slowest developing nation, India is now ranked as having one of the world's six largest economies, with a real GDP of $ 2.66 trillion. Among the major economies, the Indian economy has also experienced the quickest growth. A recent meeting between Prime Minister Shri Narendra Modi and President H.E. Joe Biden confirmed their shared vision of being among the world's closest allies and a partnership of democracies looking forward to the 21st century with optimism, ambition, and confidence. The India-U.S. Comprehensive Global and Strategic Partnership is strengthened by the warm ties of family and friendship that indissolubly bind the two nations together and is rooted in a new degree of mutual trust and understanding. Together, the countries can forge an even stronger, more varied India-U.S. cooperation that will help our people realize their hopes for a thriving future based on respect for human rights and a common understanding of democracy, freedom, and the rule of law.
Major technical developments are going to be shaped in the future by significant technological partnerships between the United States and India. These partnerships, which are centered on fields including quantum, advanced computing, artificial intelligence (AI), and advanced telecommunications, aim to boost economic and industrial growth while tackling security issues. To encourage collaborative research in quantum technology between the public and corporate sectors of both countries, the Indo-U.S. Quantum Coordination Mechanism was developed.
Quantum, Advanced Computing, and Artificial Intelligence
A Joint Indo-U.S. Quantum Coordination Mechanism has been formed by India and the US to promote collaborative research between the public and business sectors in both of our nations. India's participation in the Quantum Entanglement Exchange and the Quantum Economic Development Consortium, which promote international quantum exchanges, has also received US support. Additionally, an implanting agreement was struck between India and the US to promote further collaboration on quantum, artificial intelligence (AI), and cutting-edge wireless technologies. The agreements are based on a $2 million grant for combined AI and quantum technology development and commercialization from the US-India Science and Technology Endowment Fund.
Google is developing models to support more than 100 Indian languages through its AI Research Centre in Bengaluru, and it is collaborating with the Indian Institute of Science to facilitate open sourcing of speech data for AI models. In order to create a multidisciplinary Centre for Responsible AI, it has also teamed up with IIT Madras. Additionally, funding from the United States International Development Finance Corporation will assist the beginning of Open RAN deployments in both nations in collaboration with USAID (United States Agency for International Development). This partnership intends to increase the technology's scalability and competitiveness in global markets.
Semiconductor Supply Chains
With assistance from the India Semiconductor Mission, Micron Technology will contribute more than $800 million towards constructing a new $2.75 billion semiconductor assembly and testing plant in India. Applied Materials has declared that it will establish a Semiconductor Centre for Commercialization and Innovation in India to increase the diversity of our countries' semiconductor supply chains. To advance India's aspirations for semiconductor education and workforce development, Lam Research will teach 60,000 Indian engineers through its Semiverse Solution.
An interim readiness assessment of the semiconductor industry as a whole was released by the US Semiconductor Industry Association and the India Electronics Semiconductor Association in order to pinpoint short-term business opportunities and promote the long-term strategic growth of complementary semiconductor ecosystems.
Critical Minerals Partnership
The US and India established the Minerals Security Partnership (MSP) to promote strategic projects along the value chain with targeted financial and political support, thereby accelerating the development of varied and sustainable essential energy mineral supply chains globally.
On this, India will advance shared goals of diversifying and protecting our vital mineral supply chains alongside 12 other partner nations and the European Union. The MSP was launched in June 2022, according to the reports, with the stated objectives of exchanging information on important mineral sector prospects to enable diversified private sector investment and stimulate public sector finance.
An electric vehicle battery component factory in India will get a $650 million investment from Epsilon Carbon, which will also hire around 500 workers over a five-year period. Once permitted, this facility for producing synthetic graphite anodes will represent the largest Indian investment in the history of the American electric vehicle battery industry.
Advanced Telecommunications
Public-private Joint Task Forces on the development and deployment of Open RAN systems and advanced telecoms research and development were also established by India and the US. On top of that, this public-private research will be co-led by Bharat 6G in India and the Next G Alliance in the United States. As a result of this work, communications networks will be more resilient, secure, and cost-effective. To increase the scalability of this technology and its competitiveness in global markets, India and the US are working together to start Open RAN installations in both countries with funding from the US International Development Finance Corporation and in conjunction with USAID.
Next-Generation Defense Partnership
To facilitate and speed up the co-production of modern defense systems as well as collaborative research, testing, and prototyping of the technologies that will shape the future of military might, the defense industries will get policy guidance from a new roadmap for military-industrial cooperation. The US and India advanced efforts to operationalize mechanisms that will enable us to strengthen our defense collaboration as part of the Defense Industrial collaboration Roadmap. The United States and India decided to increase their cooperation in undersea domain awareness. A roadmap for defense industry cooperation that was recently finalized by the US and India enables the co-production of cutting-edge security equipment as well as cooperative research, testing, and prototyping of the technologies that will shape the future of military power. It also gives defense industries policy direction.