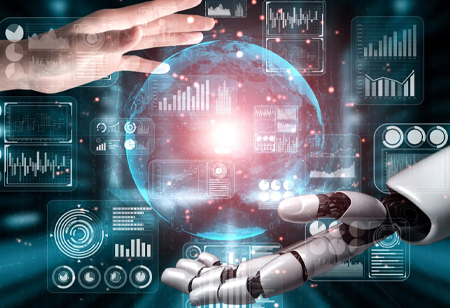 With billions of social media users across platforms, it is not surprising that marketers have been increasingly focusing on social media. This rise is most expected to continue throughout 2023, but somewhat slowly. According to predictions, in the approaching year, social media will account for 55 to 57 percent of all global ad spending. The importance of social media advertising is growing, but so has the level of competition. To develop an audience and raise brand awareness, small businesses should concentrate on a multichannel organic strategy. While advertisements can support organic growth, small businesses should refrain from engaging in a social media arms race with rivals when organic strategies like content marketing may provide a higher return on investment. Here are the technology trends driving small businesses this year:
Hardware-Based Cybersecurity
Cybersecurity is the most crucial issue that small business owners should consider. Small businesses need to be aware of more threats than only ransomware, phishing, and other threats of the same nature. In order to defend the company from these dangers, they also need to be aware of the best security procedures. One of the greatest methods to keep secure is with hardware-based protection, which goes beyond teaching your staff to spot scams and dubious connections, as well as how to strengthen their passwords. The attack surface, or the total number of potential ways to access the systems and devices, is reduced with the use of hardware-based protection, significantly reducing the alternatives available to hackers for future attacks.
Generative AI Will Disrupt Business Operations
Artificial intelligence (AI) that can generate writing, music, graphics, and other creative output from a brief description is known as generative AI. Despite the fact that the technology has just recently become widely used, it has profound effects on many corporate operations. Generative AI is capable of writing marketing copy, managing customer service issues, assisting with product creation, and more.
As AI becomes a widely accepted consumer-facing phenomenon for the first time since voice assistants like Siri and Alexa, expect more people to become immersed in tools like ChatGPT and AI art generators. Billions of dollars are being invested in generative AI by venture capitalists and large enterprises. The implications' precise nature is unknown. However, small firms may anticipate coming across an increasing number of generative AI technologies that claim to transform their operations.
Automation Will become More Important
Automation, which is powered by AI, will increasingly collaborate with technologies that companies now use to streamline a variety of operations. The focus of logistics operations will shift to automated tasks, including robotic delivery systems and warehouse automation. Additionally, keep an eye out for automation's continued contribution to developing more specialized consumer recommendations. Automation enables businesses to develop online interactions, recommendations and offers that are most likely to appeal to certain consumers by helping businesses understand their visitors based on their previous activities, demographics, and other data.
Augmented Reality & Virtual Reality Will Come into Their Own
Although augmented reality (AR) and virtual reality (VR) have been popular for a while, businesses may start adopting them more widely in 2023. The best part is that tiny enterprises might set the trend. We can have a new perspective on the world thanks to virtual and augmented reality. It's really potent, especially during a pandemic. We can attend the current VR networking events if we want to attend social gatherings. Affordable trade fair exhibits for VR and AR experiences are possible to make.
AI & Big Data Will Drive Personalization
AI and data analytics are two further technologies that organizations cannot avoid. With the help of these two technologies, organizations can not only gather enormous amounts of data but also utilize machine learning to interpret that data. Businesses can target marketing efforts or discover new internal process efficiencies using the knowledge they obtain from doing this.
According to reports, AI is capable of more than just contextualizing commercial data. For instance, AI is transcribing this call. It will immediately take action items if someone mentions an action item. AI training is more affordable than one may imagine. One can utilize AI and automation in a highly cost-effective manner depending on their business and their goals, and they just need to purchase a single personal business license for many of the technologies available.
Small Businesses Will Drive New Tech Adoption
One prevalent misunderstanding regarding emerging technology is that it belongs to large corporations. The contrary, however, is accurate. If a new technology is released, a small business can immediately use it. A large corporation must test everything repeatedly, and once they have tested and set everything up, they don't want to modify it again because they have made such a large investment. Small enterprises have a competitive advantage because of their capacity for technological adaptation, resulting in the widespread use of machine learning, augmented reality, and virtual reality (VR) in 2023.
Rapid Connectivity
The digital workplace wouldn't exist without Wi-Fi and cable technologies, which are the foundation of contemporary collaboration and networking. The company's productivity can be greatly increased by utilizing strong wireless systems like Wi-Fi 6E (Gig+) and hardware that supports Thunderbolt, which provide quick data transfers, flexible access to external ports, cable management, and high-speed data transfers.
Mobility and Remote Workforce
Due to the COVID-19 epidemic, remote and hybrid work is becoming a popular workplace model. Employees who benefit from the freedom offered by a remote or hybrid workplace will need mobile-friendly, powerful PCs as well as safe and dependable remote access. Thus, whether your workforce is onsite or remote, the IT consultant or service provider may securely and centrally manage the expanding PC fleet by offering updates, upgrades, and troubleshooting. When assisted by built-in remote PC administration and security tools, users may continue to be productive regardless of where they are working.