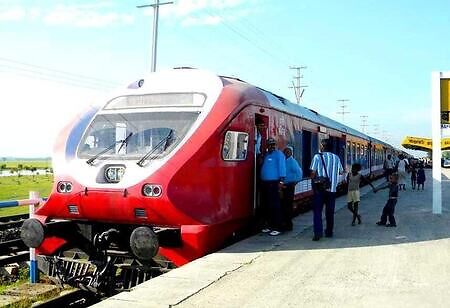 Be it every day travel or occasional travel, the train travel experience is becoming convenient from finding the right platform, checking occupancy levels on the go or in future trains, live journey information, pre-ordering of refreshments and more. Besides, not only have the number of trains increased, but each one including the railway station is getting a technology makeover as well. We can say goodbye to those uncomfortable experiences that made us think more than twice if we had to traverse by train. Finding the right platform, boarding with a herd of people and travelling through congested space and let's not forget the unsanitary toilet experience that compels you to put a hold on nature's call.
But now, every aspect of train travel is transforming from the infrastructure, travel speeds, more trains and other passenger amenities. It's no wonder the passenger count and the revenue has increased.
More People Taking Trains
The total approximate earnings in the passenger segment for Indian Railways from April to December 2022 are Rs. 48913 crore, with a 71 percent increase over the Rs. 28569 crore earned during the same time previous year.
In the reserved passenger segment, the total approximate number of passengers booked from 1 April to 31 December 2022 is 59.61 crore, up from 56.05 crore over the same period last year, representing a six percent rise. The revenue earned from the reserved passenger segment is 38483 crores from 1st April to 31st December 2022, up 46 percent from 26400 crores during the same time last year.
In the unreserved passenger segment, the total number of passengers booked from 1 April to 31 December 2022 is 40197 lakhs, up 137 percent from 16968 lakhs during the same period last year. The revenue earned from the unreserved passenger category is Rs 10430 crores for the period 1st April to 31st December 2022, compared to Rs 2169 crores for the same period last year, representing a 381 percent increase.
Besides the passenger count, a large chunk of revenue comes from the freight operations, which is the lifeblood of Indian Railways. It also supports passenger operations. Hence, the health of Indian Railways depends on it. Fortunately, It's delivered remarkable revenue results after recovering from the pandemic.
From April through December 2022, a total freight loading of 1109.38 MT was achieved, compared to last year's loading of 1029.96 MT, representing an improvement of eight percent over last year's loading. Railways generated Rs 120478 crore as opposed to Rs 104040 crore last year, representing a 16 percent increase over the same time last year.
During the month of December 2022, originating freight loading of 130.66 MT was accomplished vs loading of 126.8 MT in December 21, representing a three percent increase over last year. Freight income of Rs. 14573 crore was reached versus Rs 12914 crore freight earnings in December 2021, representing a 13 percent increase over the previous year.
It's evident that digital transformation is responsible for the increase in these number by improvising the complete suit of the train travel experience at every level starting with:
Semi-high Speed Vande Bharat Trains
Produced by the Integral Coach Factory/Chennai, semi-high speed self-propelled trains with indigenous efforts, have become the Vande Bharat Express. These trains have ultramodern features such as quick acceleration, significant reduction in travel time, a top speed of 160 kmph, on-board infotainment and GPS-based passenger information system, automatic sliding doors, retractable footsteps and Zero discharge vacuum bio toilets, CCTV cameras, and other modern features in accordance with global standards.
Vistadome Coaches
With a promotion of tourism in mind, these coaches give panoramic views through bigger body side windows and transparent areas in the top, allowing passengers to experience the visual beauty of the locations they travel through.
Tejas Rajdhani Trains
Introduced on the LHB platform with sleeper coaches, they turn the travel experience into extravagant one with automatic entrance doors, Passenger Announcement / Passenger Information System, Fire and Smoke detection system, CCTV cameras, Improved lavatory - vacuum assisted flushing with bio-toilets, etc.
AC Economy Coaches
IR intends to introduce AC Economy coaches to meet the demands of the general public and to meet their expectations of traveling in AC class. Likewise, the AC Economy coaches have now been introduced with improved amenities and higher passenger carrying capacity.
Proliferation of LHB Coaches
Trains using traditional ICF carriages are gradually being replaced with LHB coaches. When compared to traditional Integral Coach Factory (ICF) coaches, these coaches ride and look better.
Increasing Safety Over Freight Operations
Electronic Interlockings have been introduced to raise the bars on safety, as well as, flexibility.
As more trains run on high density routes on the Indian Railways, Automatic Block Signaling is adding on to the line capacity, while reducing the cost.
Level crossing gates have been fitted with an interlocking system with signals to ensure safety on level crossing.
Enhancing Livelihood of Vendors on Railway Stations
Through the provision of sale outlets at railway stations around the country, the One Station One Product plan intends to provide chances for increased livelihood to local artisans, potters, weavers/handloom weavers, craftsmen, and others through skill development.
Promotion of Tourism
Service Providers are to provide comprehensive tour services comprising meals, accommodation, transport, site seeing, tour guide etc. This scheme will also generate a multiplier effect to increase employment opportunities.
Station Redevelopment
The renovated stations will have a spacious Roof Plaza, food court, waiting lounge, children's play area, allocated space for local products, among others. The development would connect multiple forms of transportation with the Railway Station, such as Metro, Bus, and so on, as well as both sides of the city with the station. Green building technologies and facilities for 'Divyangjans' will be used in the development of station infrastructure.