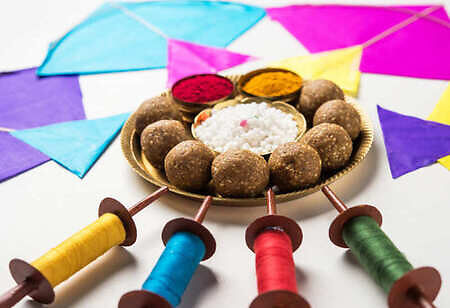 One of India's most important festivals, the harvest festival, is celebrated all over the country and is known by different names in different states. Pongal in Tamil Nadu, Sankranti in West Bengal, Karnataka and Andhra, Lohri in Punjab, Makar Sankranti in Maharashtra and other northern states, and Bihu in Assam. Each region has its own specialties for preparing regional cuisines for the Harvest Festival, using newly harvested rice, jaggery, coconut, and lentils as the main ingredients. City-dwellers miss such celebrations, but in rural areas, the festive fervor takes on a brighter dimension. In Tamil Nadu, Jallikattu is held at specific locations during the Pongal season.
Likotia or Gheela pitha
On the day of Magh Bihu, which is on January 14th of every year, Assamese people observe a different diet that begins with breakfast. Respecting the labor of the farmers, they prepare the bounty of the fields with freshly harvested rice, fresh jaggery, and roasted black sesame seeds. Apart from regular pitha, made from rice, other types of pitha, namely white pitha with sesame jaggery or coconut and jaggery, geela, the thicker pitha, and pokalal, deliberately make it difficult to test the jaw strength from chewing on toasted rice flour, muri, flam, ahoy, kumor saur, korai gris, etc., with curd or whipped cream. There is also a range of roasted puffed rice products. All of these items on the brunch menu come with a side dish of kaath aloo or air potatoes and koni pita, rice flour & egg dumplings.
Usually, everyone avoids eating the staple food, rice, for lunch. This dish is similar to Korean teokbokki. Likotia's pitha is made from freshly harvested glutinous rice and can be sweet or salty. Ricotia means elastic, derived from the gluten in glutinous rice. This pitha is crispy on the outside and sticky on the inside.
Gokul Pitha for Sankranti in West Bengal
Poush Sankranti or Sankranti is the last day of the Bengali month, 'Poush,' which usually marks the lowest temperature in winter. When the soft winter sun hits the city, the sun god and Goddess Lakshmi are worshiped, and colorful kites are flown. The three-day celebration begins on the day before Sankranti.
Makar Sankranti is the transition of the Sun from the zodiac to Danu (Sagittarius) to Makar (Capricorn). Gangasagar (the confluence of the Ganges and the Bay of Bengal) attracts priests and pilgrims from all over the country to bath in the cold river waters. The holy bath is believed to absolve all sins. Pilgrims then offer their prayers at the Kapil Muni Temple. The Gangasagar Mela, held at this time of the year, attracts a large crowd.
Harvest festival called Makar Sankranti in Maharashtra. People exchange sesame sweets and wish each other: "tilgul ghya aani goad goad bola" (sweeten the sesame and speak sweet words).
Gul Poli
Gul poli is made on the day of Makar Sankranti. Maharashtrians celebrate this festival by preparing the traditional Gul Poli, Tir Guru Vadi, or Laddu. The main ingredients are jaggery and sesame, which keep the body warm and provide the proper nutrition needed in the cold winter. The combination of sesame and jaggery is delicious and is used in a variety of other sweet concoctions. It essentially means giving sesame seeds and jaggery to forget past bad feelings, talk sweetly, and remain friends.
Mochai Kulambu for Pongal festival in Tamil Nadu
Pongal, celebrated in the month of Tamil month Thai that lasts for three days, is essentially a 'thanksgiving' festival to Mother Nature. The principal theme of Pongal is thanking the Sun god, the forces of nature, the farm animals, and people who support agriculture. It starts with bhogi and then comes the suryan pongal and patti pongal.
After the first thanksgiving to the sun, which influences the weather and greatly affects yields, farmers dig small square holes called theppa kulam in their farms for Patti Pongal. Small idols of Ganesha made of handfuls of cow dung are placed around teppa kulam, where people worship five main elements in nature called 'Panchabuthangal' (Earth, Water, Fire, Air, and Ether). In agriculture, almost 99 percent are dependent on the interplay of these factors.
However, no festival is complete without food. Around the time of Pongal, the fields are ripe with plentiful crops, and hence the farmers bring home the fresh produce, including vegetables and varieties of beans, and make dishes with pacha mochai (field beans) and raw butter. Plump, fresh, and raw butter beans and thattai payar (peas) are dunked in a tangy preparation along with seasonal vegetables like brinjal and pumpkin. A buttery mashed kollu parrippu (horse gram), kollu rasam, and yellow pumpkin stir fry are relished with steamed rice made from newly harvested paddy.
Chakkara Pongali for Sankranti in Andhra Pradesh
In Andhra Pradesh, harvest festivals are celebrated over the course of three days: Bogi, Sankranti, and Kanuma Sankranti. Cuisine prepared during these three days have some variations depending on the region. Popular dishes include Boorelu, Riselu, Kajjikayalu, Bobbatulu, Chakkara Pongali, and Sunnundalu.