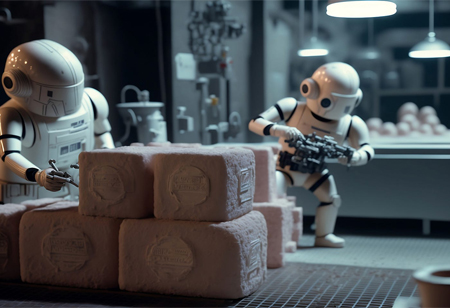 To reduce costs and boost productivity, some of the largest advertisers in the world, like the food giant Nestle and the consumer goods major Unilever, are experimenting with generative AI tools like ChatGPT and DALL-E. Although many businesses are still concerned about security and copyright threats as well as the dangers of unintentional biases built into the raw data feeding the program, this means that people will continue to be involved in the process for the foreseeable future.
Over the past year, the term generative artificial intelligence (AI), which can be used to create content based on historical data, has gained popularity, catching the public's attention and igniting interest in a variety of businesses.
Leading consumer goods businesses and the biggest advertising agency in the world are already increasing their investments in AI as they anticipate it will have a disruptive effect on the advertising landscape.
Why do the Experiments Matter?
AI is a sophisticated technology that offers significant cost and productivity reductions. Yet due to it's simple way of creating words and images for brands, it's also simple for everyone else to create identical phrases and visuals.
To safeguard a brand's profile and identity, copyright on brand assets and materials is essential. businesses need to consider how they can defend themselves in the face of the emergence of open-source models, which have shown to be much harder to monitor. While some of the more centrally controlled AI language models, like OpenAI and Google, have a stronger ability to put up guard rails, businesses also need to think about how they can protect themselves.
Despite some unavoidable barriers, there are huge chances for commercial and artistic advances, but the problems at hand go far beyond the bottom line.
The Inevitable Barrier of Copyright
Given that security and bias can be remedied by human workers, copyright is perhaps the most complicated and ambiguous issue that commercially driven AI faces. The technology is still in its infancy, and the regulatory and legal repercussions are just now beginning to be understood.
The most recent ruling was made by a US Federal court, which decided that AI-generated art cannot be protected by copyright. Judge Beryl A. Howell made this argument in her opinion, saying that "human authorship is a bedrock requirement of copyright." The plaintiffs want to challenge the judgment.
The challenge for brands arises when AI systems start to learn from branded inputs, potentially disclosing intellectual property or information to other users.
Some experts advise treating all AI input as gossip that you may or may not wish to share with the public. However, such rules highlight the fact that these continue to be black boxes with unknown internal workings.
Nestle
According to reports, Nestlé is now collaborating on campaign briefs with ChatGPT 4 and Dall-E 2 from OpenAI. It is believed to respond to "briefs with great ideas and inspiration," ideas that can then be expanded upon by human creatives. Recent examples include work done by WPP's Ogilvy for the La Laitière brand, which envisioned thousands of variations of the image that might be hidden behind Vermeer's The Milkmaid.
Unilever
Meanwhile, Unilever is deploying its own AI technology and has put it to work to produce textual and visual content for the TRESemme brand's Amazon sales. The mass-market company prioritizes copyright, security, and privacy while also aiming to avoid stereotypes in all of its advertising, whether it is produced by humans or AI.
WPP
The largest advertising company in the world, WPP, is collaborating with Nestle and Mondelez, the producer of Oreos, to deploy generative AI in marketing campaigns. It says that by drastically reducing the costs of production and transport, it is able to save 10 or 20 times as much money. It has now essentially made it possible to shoot a commercial in Africa without having to fly a film team there.
AI and Advertizers
In recent years, AI has begun to replace certain manual activities with data-intensive tasks. Advertisers are able to target their ads more effectively, place them more precisely, and do accurate, comprehensive data-driven research and campaign optimization with the use of AI solutions.
For example, machine learning algorithms work in the background to optimize data for a variety of factors, such as ad format, ad environment, browser, and operating system.
Maximizing efficiency along with assisting in the accomplishment of campaign KPIs and clear reporting are all benefits of doing so.
Programmatic advertising also makes use of AI to build high-performing audience segments that match the objectives of your campaigns, enabling advertisements to be displayed to users who are most likely to convert. Only when programmatic algorithms believe that segmenting a target audience will improve campaign performance will they do so. Then, they can evaluate each segment's performance and eliminate any that don't improve campaign performance. Last but not least, AI-powered programmatic advertisements dynamically alter digital ad creatives to show pertinent material based on user signals, web page context, and intent.
Programmatic Advertizing and AI
Future potential for the AI and programmatic advertising relationship is immense. AI will be able to leverage enormous amounts of data to deliver highly tailored adverts while preserving user privacy in the face of tougher privacy restrictions.
Every area of your digital marketing campaign, from planning and strategy to optimization and analytics, will also be continually improved and streamlined. It will assist you in making intelligent advertising decisions and maximizing the effectiveness of your campaigns.