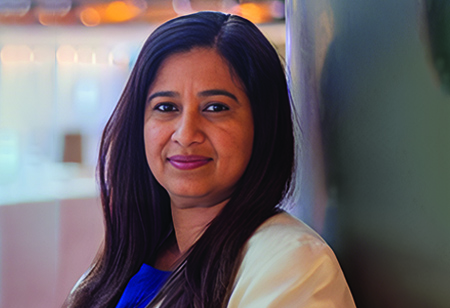 Lalitha Indrakanti, CEO, Jaguar Land Rover Technology and Business Services India, 0
An IIM Calcutta alumnus, Lalitha boasts a three decades-long extensive career during which she has successfully handled key leadership roles across companies such as SAP India, IBM, Cargill Business Services and Ingka Group, prior to joining JLR in 2022. In a recent conversation with CEO Insights, Lalitha shared her perspective on Global Capability Centers (GCC) in today's business context. Below are the excerpts from the interview –
Tell us about the key industry trends impacting GCCs' role in business transformation across various organizations.
Today,
GCCs
are more defined in terms of what they want to do, rather than getting a top-down approach of being told what they should be doing. It is active ownership from GCCs based on the opportunities identified, the lessons learned and the cross-learning from other companies. While GCCs continue to deliver business outcomes, they will also simultaneously identify more opportunities for
transformation
. This transformation agenda will have a huge impact on the kind of work GCCs do. Additionally, GCCs are very uniquely positioned because of the cross-functional capabilities collocated within the GCCs. This cross-functional visibility and the birds-eye view of different geographies give us an opportunity to standardize these things and drive through the changes more effectively. As a result, about 60 percent of all the accelerated digital transformations are executed through GCCs today.
How do you expect India to shape-up as a global delivery center over the next five years?
Going forward, we will grow significantly in terms of the size of transformations that we execute. Currently, most of the GCCs are in the initial phase of getting the confidence that they can execute end-to-end transformation projects. As a result, the way transformations are being done will be entirely different, and we will gain a big chunk of the transformation footprint that is to be done from India. Over the next five years, GCCs will continue to take more ownership in delivering the
projects
.
How do organizations leverage the cultural and geographical diversity of their Global Capability Centers to enhance innovation and transformation within a global workforce?
As Indians, we are a very ambitious lot! We do not like to do the same job forever. You'll never find a single
developer in India who has developed something and is still working on it 20 years later as well. This is because professionals in our country want to learn new things and have a lot of ambitions for growth, which will happen only when they continue to deliver value. This is a major cultural aspect that India can boast of. However, it is noteworthy that enhancing
innovation
and transformation cannot be achieved through a fixed template since it will be different depending on various factors such as the geography that we will execute it in,
customer-vendor relationship
, product portfolio and similar other aspects. Since most businesses are clear on their transformation and operational needs today than ever before, it is now easier for GCCs to deliver transformations in an efficient manner.
Most businesses are clear on their transformation and operational needs today than ever before, it is now easier for GCCs to deliver transformations in an efficient manner.
Suggest a few strategies for GCCs to drive business transformation more effectively.
Tech advancements today are happening at a faster rate than ever before, and the last few years have seen radical disruptions in terms of technology. The covid pandemic has been an eye opener in many ways by presenting us with problems that were never anticipated.
Remote working
is one of the major aspects that emerged due to the pandemic and was effectively handled only by leveraging latest technologies. Staying updated with the latest tech trends in the market and focusing on having a future-ready workforce is a very critical aspect for GCCs to drive effective transformations. This is valid for the needs of today as well as evolving requirements of the future. Also, companies must prioritize enterprise transformation over federated initiatives in order to realize long term RoI. Most importantly, organizations must ensure to not get confused between innovation and transformation, as they are two different things that must be fostered differently.
Explain the impact of partnerships, collaborations, regulatory changes and policy shifts on GCCs.
Right from the beginning of my GCC career, I have always maintained the opinion that it is the hybrid model that works really well. Thus, partnerships are very important because wanting to do everything by ourselves and reinventing the wheel is not the right approach for any GCC to follow. Partnerships enable GCCs to collaborate with other companies, experiment with new ideas, and co-create innovative new-age tech solutions, which will also lower GCCs' risk of failure and commercial impact. On the other hand, while regulatory changes will no doubt have a significant impact, they cannot be directly controlled by the GCCs.