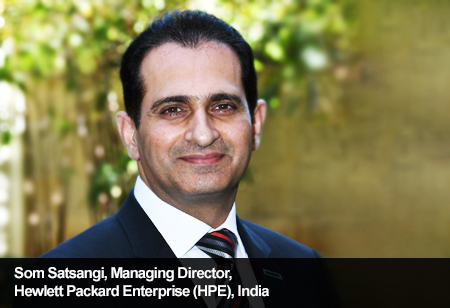 Indian startup ecosystem is one of the most fertile one, with tens of startups emerging each day. However, their existence and success stories diminish in size with each passing day. While everyone has their own purpose of establishing their startup, some start with the sole purpose of selling to others and jump on to their next idea to make it a viable venture. While some term this as easy money-minting process, these serial entrepreneurs are the cog in the startup ecosystem as
Som Satsangi, Managing Director, Hewlett Packard Enterprise (HPE), India
says.
I spoke to Som to understand more on startups, and how they are leveraging technology like deep tech & digitalization, the new normal and the burnout employees and management equally deal with. Som holds nearly four decades of experience and has served numerous leadership positions at HPE. Let's hear from him.
Q1. Startup ecosystem in our country is getting stronger by the day. Technology such as AI, ML, Robotics, Automation and others are playing an important role in enabling this. Even HPE is now engaging with startups through its Digital Catalyst Program. How do you see this engagement between the biggies and the startups going forward? Will this further give wings to startups to experiment and innovate?
In the last few years we have seen the
startup
ecosystem in India evolving with more and more deep tech, B2B startups solving for critical digitization needs of enterprise customers. In many ways COVID-19 has given a boost to digitization as enterprises need to pivot fast to adapt to changing market realities. Agile innovation from startups when backed up with the time tested performance, innovation and reach of a company like HPE can be a game changer.
Our HPE Digital Catalyst Program has a technology focus around AI, DevOps, cybersecurity and the intelligent edge and we have had ~70 startups applying for our inaugural cohort of which we have selected eight with whom we will work closely in the near future.
Q2. There have been several instances where big companies acquire unicorns and/or some of the most innovative startups with the ultimate purpose to kill them. What is your take on this? How is this philosophy impacting the startup ecosystem and the young minds entering it?
There are many more examples where an acquisition by a larger enterprise puts a business in a much stronger growth and innovation trajectory creating value for stakeholders in the process. Aruba is a great example of a successful acquisition, growing from strength to strength. Coming back to the second part of the question, I interact with many young
entrepreneurs
as a part of my role, and I see that they come with the confidence of approaching partnerships with large enterprises as a force multiplier.
Q3. Some entrepreneurs start their venture with the sole purpose to sell it at a multi-million dollar deal and then either move on to the next venture or take a break. Do you think this should become a viable business option and what pros/cons will this have on the ecosystem?
The serial entrepreneurs has always been a key cog in the startup ecosystems around the world right from the beginning. Entrepreneurship is tough and while some people are very good at taking an idea from a back of the napkin concept to a working product that solves a problem, they may not be that passionate about scaling it or they may be considering to hand over the job to an expert. Diversity of talent, experience and passion is what makes the startup ecosystem the fascinating place that it is.
Q4. Work from home has become the new normal, which demands more of your personal time with expectation of being available 24x7. What is your take on this? How are companies planning to help employees evade the burnout they face when working from home?
Around the world, the COVID-19 pandemic is challenging families, businesses and communities. Each of us has adapted to news ways of living, working, and relieving stress due to COVID-19 for more than seven months now, and we recognize that our team members may need support during this time and their wellbeing is one of our prime concerns. Through our HPE Global Wellness programs and initiatives, we are trying to keep our team members and their families engaged, motivated and fit. We, at HPE believe that healthy and happy teams equal to happy customers and partners.
For me personally, managing work from home has not been easy as it has blurred the lines between work and home – in time and space. Unknowingly and unintentionally, everyone is expecting 24x7 access and availability. But, yes, at the same time it has allowed us to spend more time with our families. The productivity has increased and everyone is socially connected. But, I personally miss the human contact and personal touch.
Q5. Most people talk about the employee burnout. What about the management burnout? How are you as the Managing Director of an MNC dealing with such times?
I have started doing regular exercising and stretching and it has made such a difference to my physical and mental being. I now enjoy the parallel bar. Three days a week, for over 1.5 hours, I challenge and stretch myself to stay fit. When I initially started, I couldn't hold a plank position for more than a few seconds but now I am excited to share that I can hold it for more than two minutes. It has helped me build stamina, stay more focused and feel energetic and positive.
I have also taken up gardening as a hobby and it helps me unwind. I learnt it through videos and by reading about it and I am proud to say that I am now the gardener of the house and we have seen full bloom and lush greens in our yard.
Q6. Could you highlight a day in your daily life? What keeps you motivated?
I plan my week in a way so that I am able to manage and balance the demands of my job and at the same time I am able to spend quality time with my family. I start my day early around 5.30 AM and try to wrap up office work and meetings by 7.30 PM at least three times a week. My role does demand occasional late evenings as I need to connect with colleagues in different time zones. Mondays, Wednesdays and Fridays are packed but I consciously make an effort to keep Tuesdays and Thursdays light. I have started to exercise a few times a week and go for an evening walk with my wife. Having saved travel time, working from home has given me an opportunity to enjoy lunch and dinner together with my family.
I am self-motivated and not afraid to take risk to excel in whatever I do.
Q7. Tell us about your favourite books, gadgets, cuisines/food, travel destination and movie.
Books
– Management Books
Gadgets
– Bose Music Systems
Food/Cuisines
– Love Indian food
Travel destination
– Europe
Movie
– Three Idiots