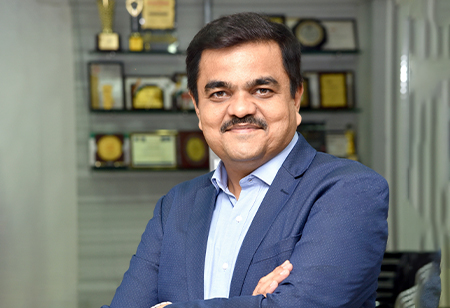 Ashish P. Dhakan, MD & CEO, Prama Hikvision India, 0
Having completed his MBA from Mumbai University, Ashish is a visionary first-generation entrepreneur in India's security and surveillance space. Owing to his profound industry experience, he advocates for security through various industry bodies and strives to create awareness in both government and private sectors. In a recent conversation with CEO Insights, Ashish shared his insights on the current security & surveillance space and ways in which modern day technologies are driving the industry lately. Below are the key extracts from the exclusive interview –
What are the latest technologies that are revolutionizing the security and surveillance space lately?
The electronic security systems and video security technologies have come a long way from the era of close circuit television (CCTV) to the new age
AI based video security cameras
. The transition from analog CCTV cameras to digital IP happened slowly and gradually over the years. Analog HD cameras also evolved along with the IP trend, which led to fast adoption of IP cameras in the critical infrastructure sector. Similarly, fast developing networking technologies paved the way for an IoT (Internet of things) revolution with help of IoT sensors and devices. A few other technologies that are enabling the security sector to evolve are AI, ML,
Cloud Computing
, AIoT, Blockchain and more. Their impact on security products and solutions are quite visible in the command and control rooms. The AIoT technology has made security products and solutions smarter than ever, resulting in the enhanced efficiency in the security management process. Additionally, the reactive state of
security management
has changed into proactive and real-time mode. There are significantly lesser false alarms and more real time alerts received by the quick response teams (QRTs) for risk mitigation.
How can organizations leverage ethical AI and ML to mitigate biases and risks in security systems?
We are very cautious about the AI and Machine learning applications that are being offered to the end-users.
Thus, we always make sure that our team of trained professionals follow all the guidelines and best practices. Also, we are very well aware that safeguarding
data privacy and security
is paramount to ensure
ethical AI practices
. Hence, we ensure that our end-users also adhere to robust data protection measures, including secure data storage, encryption, and strict access controls.
The adoption of IoT is increasing across all sectors, and companies are investing heavily in IoT solutions to increase efficiency, reduce costs, and improve customer experiences.
Briefly explain the role of IoT in enhancing the efficiency of security and surveillance systems.
With technologies continuing to evolve and connect more devices,
the future looks promising for IoT
. As IoT becomes a core part of our lives and industrial ecosystem, it has the ability to drastically transform industries. From smart homes to connected vehicles, IoT devices are making our lives more convenient and efficient. According to the latest market research reports, IoT is expected to become a $1.6 trillion market by 2025, with more than 75 billion connected devices worldwide. The adoption of IoT is increasing across all sectors, and companies are investing heavily in IoT solutions to increase efficiency, reduce costs, and improve customer experiences. While IoT offers a host of benefits, it also has its own unique set of challenges such as cyber threats, seamless data transmission, scalability, interoperability, bandwidth, limited battery life and remote access.
Suggest ways an organization can balance innovation with regulatory compliance in security and surveillance.
As the security and surveillance sector continues to evolve further, there has to be a fine balance between innovation and regulatory compliance. Organizations must set priorities right with a proper policy framework for safeguarding their business, their key assets and their employees. Additionally, security compliance has become less intrusive and swift with advent of latest technologies. The use of latest technologies is making the task of security managers easier and less cumbersome. With innovative AI tools and applications, they can now focus on the key security events rather than wasting time over numerous false alarms.