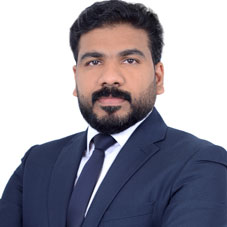 A longside CEOs and the Board of Directors, CFO plays an important role in spearheading and strategising various financial decisions of a business organisation. Making recommendations on financial planning, analysing the company's financial strengths and weaknesses, advising on investment decisions, obtaining funding, budget creation, designing and streamlining internal processes and control systems in the ERP, verifying the accuracy of MIS reports, consulting with the board of directors and the CEO on strategy, and building an excellent finance and accounting team are all duties of the CFO. The CFO administers everything from handling cash flows to analysing the company's financial strength. Maintaining FJ Group's financial strength at the pinnacle, Jeemon Jose is leaving no stone unturned.
Jeemon Jose is a chartered accountant by profession and has rendered his services to various business giants before joining FJ Group Dubai. Jeemon Jose engaged in an interactive session with CEO Insights; here's the highlight.
Share with us your educational background and professional experiences. What motivated you to take the leadership role at FJ Group, Dubai?
I am a Chartered Accountant from ICAI and started my career with Price Waterhouse Coopers as a tax consultant in the Direct Tax Team. After three years as a senior tax consultant, I moved on to Deloitte to work as a tax manager for an additional three years. Throughout this time, I had the chance to counsel numerous multi national corporations on complicated tax structures, expatriate taxation, social security compliance, tax planning, corporate taxation, and transfer pricing.
Even though I was working in taxation, I had a strong urge to transition into the corporate finance segment. I chose FJ Group because I take pride in working for this fantastic organisation in a desirable location like Dubai. Since then, I've had plenty of chances to learn about various aspects of finance, including banking, project financing, international trade finance, hedging and forex management, capital financing, investment analysis, feasibility studies, mergers and acquisitions, BI & Automation, budgeting, and advanced ERP applications.
How would you define FJ Group's position in the market? What makes it different from its competitors?
FJ Group is well-known in the GCC market, and we are uniquely diversified in manufacturing, trading, real estate, construction, after sales service, and investments. We cooperate on numerous projects in the Middle East and provide services and supplies to the bulk of the region's top contractors and prestigious projects.
It is important to put effort into continuous learning as the business world and all segments of its ecosystem are evolving and undergoing substantial changes; hence, it is essential to keep yourself updated
We believe in our core values of character, commitment, partnership, and continuous improvement. FJ Group values and invests in relationships with all stakeholders, key customers, employees, distributors, agents, suppliers, and so on without looking at the mere financial objectives. We believe that this has differentiated from others and for the last thirty-five years FJ Group has been positioned as a trusted MEP solution provider.
As per your experience in the sector, how have people's mindsets on investment changed over time? What is your success mantra for your achievements?
In earlier days, people used to be highly selective and conservative in investments, and they chose low risk, low return products. However, we can see a shift in people's mindset in investing for long-term objectives rather than just saving money in traditional methods. As a result, theystarted to consider various parameters such as ROI, Risk factor, Tenure of investment, Liquidity, inflation rate and other parameters in the investment decisions.
believe that investment in any sector or business would require a careful study of its basic parameters like risk return based on the futuristic perspective is very important in this dynamic world.
What is your advice to educate the young generation about financial literacy and the importance of investment?
Financial literacy is very important for any person, whether a salaried person or even a businessman. It is nothing but a capability and awareness of how efficiently you can manage your money (savings or capital). There is a reasonable degree of uncertainty prevailing that you'll make money from your investments. However, if you get the facts about investing and follow through with an intelligent futuristic
based plan, you should be able to gain financial security over the years and enjoy the benefits of managing your money.

One must determine their short and longterm financial needs. to decide on asset allocation and investment products. One should also identify the risk tolerance level as the return always depends upon the risk he undertakes. Another important factor is the liquidity of investments. As everyone know, you can have reasonably less liquidity for your longterm requirements, but you must have more liquidity for your short term needs.

You need to know a few basics, like drawing a personal financial plan, identifying your risk tolerance, investing in a diversified portfolio, always maintaining a liquid emergency fund, and monitoring the portfolio periodically.

Based on your expertise, what advice would you like to give upcoming leaders in the finance and investment industry?
If you're a young leader or professional entering the financial sector today, there are plenty of lessons for you to learn beyond the textbook rules and conventional guidelines. In my opinion one should first understand the business and operation on the ground level to establish finance function efficiently and act as a business enabler. Similarly, an investment advisor should have clear understanding on the financial goals of the investor then only he or she can devise investment plans suitable to investor's goals. The investment decisions should be reviewed frequently until they reach a mature stage and bring the investor a steady source of income as per the expected levels.

In essence, it is your conviction in your choices based on your study and analysis. Your decision-making will become more accurate the more you research and analyze. Similarly, every time you fail, you learn some thing new and develop a better solution.

With the onset of new technology rolling out all the time and the frequent global turmoil requiring everyone to adapt to new norms, methods and strategies. It is crucial to make an effort to learn new things constantly because the business world and its ecosystem are changing dramatically and evolving, making it important to stay updated.

Jeemon Jose, CFO, FJ Group, Dubai
Jeemon Jose has expertise in financial planning and analysis, dealing with M&A proposals, Taxation, banking & treasury, forex management, equity and debt fundraising, and debt restructuring. As the CFO of FJ Group, he is skillfully developing corporate financial strategies to maintain the firm's market position at the top.