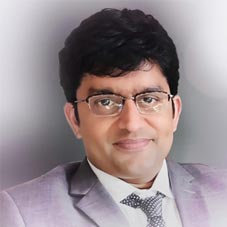 Technology has become an integral part of our lives and its especially revolutionizing the healthcare industry as we know it. Cartula Health - a New Delhi based healthcare service provider with its AI based technology is transforming the Indian health eco system by providing healthcare access to the last mile with their tele medicine App.
Cartula Health India is a 2019 established organization which is a of Cartula International, an Australian owned organization that provides services in the field of healthcare worldwide. The company's journey started in India when Vimal Prakash V (Co-Founder & CEO, Cartula Health India) visited the country and realized that the India needed a dedicated solution that can bridge the healthcare gap in this country, especially in the rural region. So, with a single-minded aim to cater the demand of the rural public, while offering them with all the support needed in healthcare, Vimal decided to start a venture in India and this is how Cartula Health India took birth in the country
Today, Cartula Health India with an aim to convert the nation into a 'Swasth India' is surging ahead in the industry by offering the best it can provide to the people. Talking to CEO Insights, Vimal, shares in detail about the company, its offerings, and future plans.
Why telemedicine and what makes you different? Also, tell us about the imperative facet of the company.
India is full of diversity however the healthcare sector remains quite fragmented and inaccessible to the tier 3 and 4 cities. There is a big gap in almost of facts; most importantly access to primary care and secondary health care. In the present scenario Indian rural health care sector faces a crisis unmatched to any other social sector. Nearly 86% of all the medical visit in India are made by ruralites with majority still travelling more than 100 km to avail health care facility of which 70-80% is born out of pocket landing them in being bootstrapped.
Cartula Health India was envisaged keeping in mind the challenge faced by our ruralities and bridging the gap between patient and the doctor through our Telemedicine and Tele consultation solutions.
What sets up apart is our we are passionate about the social cause and we are providing these technology-based solutions as part of or corporate social responsibility.
Tell us more about your offerings, along with your organization's vision & mission?
Our philosophy is Healthcare is the right of every individual but lack of quality structure, dearth of qualified medical facilities, and non- access to basic medicines and timely diagnosis thwarts its reach to 60% of population in India. A majority of 600 million people live in rural areas where the condition of medical facilities is lamentable. Considering the grim picture Cartula Health India gauged that there is a dire need to ensure that quality and timely healthcare reaches the deprived parts of India.
Currently, we are offering two different applications (Apps) named as Cartula Health App and Cartula Janani App
We at Cartula Health provide an integrated health care to the rural population with emphasis on preventive healthcare. We provide bouquet of state of art technology enabled services which are not only user friendly but also available in multiple languages which enable our customers to reach out to expert medical practitioners in their local language.
Currently, we are offering two different applications (Apps) named as Cartula Health App and Cartula Janani App.
Rural Health care is one of biggest challenges we are faced with in India.. With more than 70 percent population living in rural areas and low level of health facilities, mortality rates due to diseases are on a high.
Cartula Health App is crafted to make the availability of healthcare services easier and less expensive for patients. It uses modern technology to make it convenient for doctors and patients to communicate virtually whenever and wherever needed in any part of the world.
Further, through the Cartula Health App, we focus on creating a common telemedicine platform for every healthcare stakeholder by promoting their services, sharing their best practices, exchange knowledge and information and improve the quality of health care, especially in the rural spectrum. Besides, our mission is to make Cartula Health App a one-stop solution for patients across every corner of India including pathology, imaging, hospital and pharmacy.

Cartula Janani App is a women-centric app that is meant for the women community of India. Through this app, we deliver an array of offerings to women along the paths of fertility, pregnancy and new motherhood. From the pregnancy health guide to the post-pregnancy guide, and from the diet & exercising suggestions to symptom tracker options, the app covers every aspect of its users.

What is responsible for the utmost efficiency of Cartula Apps?
We develop trailblazing, effective, integrated solutions to assist customers get value from our characteristically crafted healthcare system. Though the apps are designed and shaped by our expert team, its functionalities are armor-plated by leveraging the information & knowledge provided by medical experts of India.

Also, the apps are built by assimilating latest technologies viz AI, patient monitoring, cloud storage and much more, yet the user interface is kept as simple as possible keeping in mind the rural landscape. The apps are already available in Google Play, and we will soon launch the iOS version by the end of this year.

Where do you see yourself in five years?
If we look at the health landscape of India 75% of health care visits are to private providers of which 62 percent is urban population. However, private health care is expensive, often unregulated and variable in quality. Besides being unreliable for the illiterate, it is also unaffordable by low income rural folks.

We want to revolutionize the healthcare space of India, and with our offerings, we foresee a healthier future with high standards healthcare accessible to everyone. We actually consider our apps as an ecosystem and not just the telemedicine solutions. This ecosystem is created to provide facilities to the patient at click of the button. In the coming future, from the healthcare services to the blood bank, ambulance, pathology and much more, everything will be available in the app. Further, in the next five years, we want to see a couple of million people leveraging these apps and living a healthy life; that would be a great success for us.

Vimal Prakash V, Co-Founder & CEO, Cartula Health India
A dedicated entrepreneur, Vimal holds 18+ years of industry experience, while his professional stint started with an Australian-based engineering organization. His enthusiasm towards helping others has led him to provide internships to more than 5000 interns, along with conducting various other social responsibility activities.

Office: New Delhi