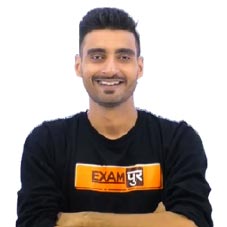 Expansion of the internet and the means of acquiring information have drastically changed over the years. Today, anybody with an internet connection can create and upload content in specific media platforms and also make use of them. However, a passionate mind like Vivek Kumar had just started teaching in front of a camera. Back then, he didn't have any infrastructure other than a whiteboard and a marker. While teaching for the eyes and ears, online classes were gaining momentum at the time Vivek started uploading his lectures on YouTube. Later, the zeal to reach-out to a wider audience of students by advancing the platform to a higher level had invited the potentials of a few more bright minds which included Vardaan Gandhi and Sameer S, and many more teachers & lecturers. Together, they joined forces to nurture the idea of education for all. With their adeptness in directing the idea to reality with the use of technological assistance, Vivek established Exampur in 2018. The platform is not merely a YouTube channel, but an educational institution of its own that prepares individuals for government level exams.
Hundreds of thousands of students have realized their career in government by preparing from Exampur. After observing the void in accessing the right materials for students in Tier-2, 3 & 4 cities of the country, the institute based out of New Delhi today has grown to cater to nearly 3.2 million people on YouTube. The beginning was humble, with the team of 15 people operating out of an apartment. The platform, which started with only a single person, has now grown and flourished to house 170 members within two years. Vivek, who has a teaching career that spans more than a decade, bears the role of a steward as well as a teacher. Along with him, Vardaan Gandhi, a graduate in Computer Science, takes care of the business part, and Sameer S also from the same background bears the role of CTO.
Exampur's orgin was Vivek's personal YouTube channel, where the content is available for free. Vivek explains that in the initial days, teaching from home with a whiteboard and a marker in poor lighting setup had its impact among students as well. However, with the right set of people on board, Vivek could propagate his vision to educate. Today, as exams have also started being conducted through online, it started expanding the possibilities for Exampur to reach among more students in Tier-2, 3 &
4 cities. As of now, Exampur is in touch with an approx. of 45 lakhs students and receive around 17-20 million views per month.
Bringing About a New Dimension in Education
Although India's internet user base has hiked in the past few years, its exposure to EdTech remained minimal. People were not aware of such kind of platforms where lessons can be acquired through online by paying fees. In any discussion about EdTech, education comes first and then technology. People started witnessing how students attend online classes and exams, thereby exploring other opportunities in acquiring education. "Initially, we concentrate in making a difference in the content we deliver. Secondly, most of us in the management part of the company come from a background where we understand the pain points of students from Tier-3 & 4 cities.
Vardan, Director
Thus, it helps us in identifying their need much quickly than the rest. Therefore, it becomes necessary for us to keep a watch on the responses and written feedbacks about the classes we deliver. I have been conducting training sessions for teachers on how to execute live streaming classes", says Vivek Kumar, Founder, Exampur. There are a total of 45 trainers on board with Exampur, who have a minimum of 5-six years of teaching experience in the respective fields. Preference is given to those who have prior experience teaching online. Having stated that, Exampur is now well equipped with smart boards to give a better learning experience for students. The institute conducts demo classes and analyzes the responses of the students before appointing the teacher as a permanent employee.
Not only in the e-learning sessions, but the Exampur staff also tries to maintain a healthy relationship with everyone in the workforce
More so, Exampur has launched a batch called Parivarthan. It lets students pay for a particular subject of choice rather than for an entire package. This helps them in preparing for that particular exam via accessing PDF notes, test series, and lectures. Not only in the e-learning sessions, but the Exampur staff also tries to maintain a healthy relationship with everyone in the workforce. By conducting training
sessions for teachers as well as others, an environment of shared learning is created. The whole online space delivers high chances of growth to everyone. Growing from an individual to 170 people within teo years is an exponential improvement. In terms of innovations, Exampur is in constant discovery of strategies needed to make the content more relatable. In order to accomplish that, the Exampur team of educationists created a timetable to make things relatable for the students as per their routine tasks.
Sameer, CTO
With the introduction of timetable section in the app, the students can know what is happening. Lately, Exampur team has also started moving towards integrating the capabilities of Artificial Intelligence. The ebook section in the application will be rolled-out soon. "Our team strongly believes that such advancements will have a strong impact on the teaching and learning experience as well," assures Vivek.
Brighter Future for Inclusivity in Education
As Exampur is currently focused in providing classes for people seeking to crack government exams, it totally depends on the vacancies that come-up at each sectors. Besides, the panel has introduced Spoken English courses for 60-year old people. Most importantly, IAS & PCS classes hold a special place amongst our country's aspiring youth. However, the classes are worth Lacs, leaving behind hesitant aspirants. Exampur, in its endeavor to give to the society, is commencing free online classes for the same. Having a growth trajectory of 300-400 percent each quarter in revenue, we are planning to venture into different streams. In the near future, we will be introducing more courses for students of age less than 25 years. Vivek and team have carried forward its motto – 'give to the society and the society will give you back'.
"The Exampur team of educationists create a timetable to make things relatable for the students as per their routine tasks"
Offerings:
• UPSI Live Class, Live Video, and free mock test
• IAS & PCS online classes for Free on Exampur's Youtube channel
• SSC (CPO, CGL, CHSL, STENO, MTS) – Live Class, Live Video and free mock test
• RRB NTPC – Live Class, Live Video and free mock test
• RRC GROUP D – Live Class, Live Video and free mock test
Achievements:
YouTube awards - Gold Button in Youtube and several Silver Buttons for other channels.