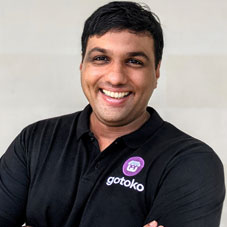 The advent of the internet age has radically altered the way traditional businesses can interact with their suppliers and execute their business operations. The technological break throughs have provided consumers with the ability to explore and obtain knowledge from anywhere, and it has also given us the desire to purchase conveniently. To address this need,the notion of e-commerce technology was developed, and online shopping quickly emerged as the most chosen method of shopping. By browsing for and buying products online, consumers save time and money, and in the aftermath, e-commerce today has become inevitable even for established retailers.
GoToko, a digital e-Commerce company led by its founding CEO Gurnoor Dhillon was established as a joint venture by the Gojek Group and Unilever Group to enhance the business operations for the under served traditional retailers and improve their lives. A young entrepreneur in the segment, Gurnoor is passionate about using digital technology to address real world problems and satisfy customers. In an exclusive interview with CEO Insights, he spoke about his professional journey.
What prompted you to enter the B2B digital commerce market, and what drives you today?
I am passionate about using technology as an enabler to make a direct social impact. My life's calling is to build digital products for offline commerce and have value creation for the entire ecosystem. B2B digital commerce fits into that effectively as it's the best place to implement new products to enable rather than just disrupt. The demand is always there in B2B, and the key question is how to capture it efficiently. The question on why I specifically focused on the under served e-B2B is based on a personal back story. When I was at Unilever, one of the solutions we implemented was a connected suite of digital products which targeted a set of retailers that never had any digital solutions or loyalty programs for their consumers. I was on a market visit when one of these retailers approached me and said, `Thank you for looking at us, because of you, I have some additional cash which I can spend on my child's education, you are like a god's avatar for us'. By far that has been one of the most profound, humbling moments of my life and has left an overwhelming impact on my thinking and approach. I became clearer in my purpose that everything I do in the near future will
be focused on developing B2B or B2C platforms & products for this segment and to create a clear and tangible impact. It is also my personal desire to try to dispel the myth that you can't develop digital products for a segment that is under served or has a lower market value while still having a successful, sustain able and transformational business model. That's where GoToko comes in, intending to reach under served stores and improve the lives of people.
In the new digital world, platforms and processes will be similar or optimized, the quality and moti vation of the people will be the biggest differentiator for success
What is your company's unique offering to customers?
GoToko aspires to be the platform of choice for underserved retailers by offering relevant assortment at affordable pricing and guaranteed on time delivery. GoToko is an end-to-end e-B2B digital commerce platform that connects brand principals with underserved conventional traditional trade retailers or warungs, which today are not effectively connected. In Indonesia, we have over three million small grocery stores which serve approxi mately 80 percent of the retail market. About 2.5 million people, or 83 percent, are classified as under served. This means they are not sufficiently covered by a direct distribution channel of brand principals. They have to close their stores to collect their supplies, and there is no one reliable source where they can receive what they need to run their business more effectively. As a result, we are unique in the sense that we are offering a value proposition to a segment which no one thinks is viable to target and solving a need in the market which this segment currently does not have the luxury of.
What have been the most difficult challenges you've faced on your journey thus far? What did you learn from them and how did you overcome them?
You always will face challenges, some which are expected due to the nature of the task and some will be unexpected. I have a master's degree in International Political Economy which did not fully equip me relatively to let's say a business degree or product management courses for my chosen career path. It's always difficult to be perceived as an outsider as you have to be better than everyone else and have a higher degree of success metrics to prove you belong. The learning from all challenges I have faced is to reinforce the mantra of hoping for the best and preparing for the worst. At a very young age, I played professional sports,which teaches you about discipline, dedication, and
complete trust in the process of prepa ration diligence, and striving to be the best in the world at what you're attempting to do. At the same time, we also need some luck and due to an injury, I could not pursue my career. At that point, I had two options either perceive that the world is against you or explore what alternative possibilities exist. I recovered from that and brought that mindset of resilience to everything I do. Recent example is of numerous challenges while launching a new company amid a pandemic when all the prescribed strategy playbooks became irrelevant. We did not panic, but went back to the drawing board and launched on the said date we had decided to launch after trusting the process, product & people we had put in place the tenacity to not quit should shine through and if you stick perfecting the input process, focus on the sound, and avoid the noise of distraction surrounding you, you are more likely to achieve your ambitions and overcome challenges.

Which milestones in your professional career have provided you with the most satisfaction?
Every achieved milestone is special for me as it means that the hard work has paid off. As my life's purpose is to digitize offline commerce and make a social impact, the goals and milestones tend to be very difficult or 'moon shots'. As a leader if you are able to improve every single process, product or people in your influencing sphere, that for me is the most satisfying metric there can be.

I feel blessed that GoToko has been excep tional in all metrics in our first year of operation, and our customers, people, partners have been able to grow with Gotoko. This has brought value to our shareholders and they have recognized me making me one of the world's youngest professional appointed CEOs at the age of 30. The trust of the team and our shareholders in me is immensely satisfying and I hope I am able to keep learning and improving to create an impact and improve lives.

Gurnoor Dhillon, CEO, President & Director, GoToko
Gurnoor after graduating from the London School of Economics started his career as a banker with DBS group. He was a founder member of Digibank by DBS, one of the world's first digital banks. He continued his digital journey by joining Hindustan Unilever as the Lead for Digital Inno vation to digitally transform the B2B and B2B2C processes by establishing and executing future product roadmaps. He then became the Vice President and Group Head for Gojek group for Brand Partnerships & Retail Innovation before being appointed CEO and Chief Product Officer of Gotoko. He is an expert in digitising offline commerce and one of the Youngest Profes sionally appointed CEOs in the world at the age of 30.

Location: Indonesia