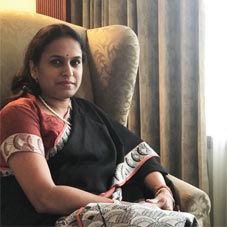 Women are gradually making their leadership presence felt across domains at regional, national, and global levels. Even in the entrepreneurship space, we are seeing emergence of women founders.
As women are constantly evolving and reaching new milestones across various industries, Manju Menon helps organizations convert ideas into impactful social programs. In 2017, she co-founded NuSocia as an impact advisory and CSR design firm to create action at the intersection of knowledge, research, and practice. She believes that there is a need to apply new technology solutions to enable those who are busy solving complex social challenges and thus improve the way the world works and lives.
Further, Manju has exclusively narrated a spectrum of aspects about herself and her firm with CEO Insights. Here are the excerpts!
Kindly brief us about your journey to establish NuSocia?
Sustainable development of society needs active engagement from all social institutions. Currently, many of these institutions, like SMEs, students, communities, individuals, corporations, NGOs, etc. lack either information, capability, design, or platform to contribute. There are many actors in the social impact ecosystem, but there is a big gap of mediums dedicatedly focused on enabling these actors to perform their social responsibility actions better. NuSocia exists to fulfill this gap through its offerings. Several factors motivated us individually and collectively to start a venture to address the identified gap. In my previous roles as a professional, I had identified this problem and was addressing some of these issues with a limited group of stakeholders in my professional capacity. However, I realized that this challenge's scale is much bigger and therefore demanded a focused intervention. Fortunately, I met my co-founders from different corporate and technology
backgrounds, who have also identified similar issues in respective domains. The reason for joining the efforts to start a venture also emanated from an urge to build something that will remain for perpetuity, which was not possible through individual volunteering and consulting. We want to create an institution, not just a company.
Tell us about NuSocia and the various services you offer, and how do you uniquely run the functions of the company?
NuSocia offers impact design, impact communication, and impact assessment services to its corporate clients. We offer capability-building training to NGO leaders across South East Asia and curate knowledge content that motivates youth towards responsible behaviour/social entrepreneurship. Being a research-focused firm, we have kept a high focus on undertaking sectoral research, which can serve the requirements of universities to government bodies to international development agencies and large foundations. We have chosen a human-centred approach, backed by appropriate technology leverage, towards our customized solution design methodology.
CSR Strategy Advisory, CSR Project Management, CSR Monitoring and Evaluation, Impact Reporting, CSR lifecycle management and Capability building training in impact space
Moreover, as an organization, we have a high focus on being process-oriented and agile at the same time. We function as a genuinely new age company in a complete virtual office mode, keeping our operational costs lean. We are a young team with a high share of females. Youngest of our team members are involved in decision making, giving them a platform to learn and explore. Internally, we undertake periodic knowledge sessions and fun sessions – making it an organization that every one of our team members loves to be part of.
Explain your current role at NuSocia, and how are you leveraging the best of these elements across your company's operations?
In my current role as CEO at NuSocia, each of my previous roles and my education is coming of immense help. Both my sectoral domain knowledge and work experience are of direct benefit in convincing clients, as a subject matter expert. Additionally, working with various organizations and roles gives me the ability to understand different stakeholders and clients' needs well. Experience in team management in previous roles and cross-functional experience across HR, finance, marketing, projects is immensely helping in managing in my current role as a multitasking CEO.

How do you manage to maintain a balance between your personal and professional life?
Being an entrepreneur, personal and professional life often interject seach other's time; therefore, family support becomes exceptionally critical. My family completely supports my passion and encourages me to pursue my endeavours, whether it has been my long stints away from home for following some courseor shorter international travel stints participating in training and brainstorming visits. Both my co-founders and my leadership team at NuSocia come with a lot of experience and are entirely hands on, to take charge, if and when I need those small breaks.

Do you have any advice or suggestions in mind for other peers or women who seek to fulfill similar dreams in the realm of technology or the world in general?
If you want to work at your pace and your terms, just believe in yourself and take the plunge into entrepreneurship. One thing that you must always remember, though, is to never compromise on your values. Keep experimenting and exploring, and don't stop learning. Keep your family in confidence and share your passion with them.

Manju Menon, Co-Founder & CEO
Manju Menon carries over 15 years of rich experience in the social sector across a broad spectrum ranging from managing large social projects at the national level to driving international programs like Action for Children or leading a consortium of organizations in an EU funded project, or working with impact fund. Her expertise lies in designing, piloting, and scaling up community-based social projects.

Offerings: CSR Strategy Advisory, CSR Project Management, CSR Monitoring and Evaluation, ImpactReporting, CSR lifecycle management and Capability building training in impact space.