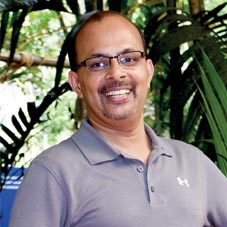 As the tech world continues evolving, so do the roles of a CTO. Today, enterprises, big or small, are embracing and depending on technology, and it's becoming imperative that the CTO has a say in the company's direct growth prospects. With a close watch on the latest technologies, they must actively participate in all facets of the company. They must be able to pinpoint the pressing challenges and create effective solutions for them. They also are expected to contribute ideas to continue the transformation process and help the company to thrive as a whole. Needless to say, it takes an exceptional leader to spearhead the whole process. One such personality in the IT industry who has never shied away from the challenges, and instead, faced them with passion and courage to emerge as a champion tasting success is Shyam Kumar, the CTO of Axidio Corporation.
Shyam is a firm believer that 'successful leaders get good advice from everywhere.' He is a visionary technology leader who blends an extensive pool of business knowledge with leading-edge technology capabilities. In his 25 years of experience, spanning multiple verticals and servicing global customers, Shyam has successfully created, scaled, and managed many IT products and platforms, resulting in a significant positive impact on the organization's performance parameters. CEO Insights engages in an exclusive interview with Shyam.
Kindly enumerate the major factors about your entrepreneurial journey.
Motivated by intrapreneurship successes and influenced by the ideas of compassionate and creative capitalism, I took the plunge along with a couple of my friends to kick start Axidio Corporation- a global supply chain consulting and technology company
that specializes in the development and implementation of innovative business solutions. Our experiences revolve around retail and supply chain, and we wanted to give the operational touch to the industry, which is different from traditional consulting.
As a CTO, what are the key drivers that you deploy to ensure that the company's technology capabilities are used appropriately and sufficient to meet its short/longterm needs?
With over two decades of proven experience in the IT industry, I feel fortunate to have had the opportunities to build solution platforms, and manage business growth for very large customer accounts and very large sales areas across the globe. For us, user experience and human element take the center stage in our approach. One of our flagship products, Retina – a cutting-edge digital application for retail and supply chain operators – is powered by AI that transforms raw data into consumable insights that lead to informed, data-driven decisions. We have vested our focus on ordination where the quality is by design, and modern technologies like CICD help you ensure that. We also stayed cloud agnostic during the time of design.
With over two decades of proven experience in the IT industry, I feel fortunate to have had the opportunities to build solution platforms, and manage business growth for very large customer accounts and very large sales areas
Could you elaborate more on the current roles and responsibilities?
Axidio brings in the operators' knowhow and approach to the supply chain and retail customer. As a technology guide to our customers, I speak the customer's language, which is the business supply chain and retail language, and I translate that into a technology solution constructs for my team. As a trusted advisor to the customer, we take a complete vendor-neutral approach where the proposed solution could be from any vendor.
Family plays a crucial role in every person's life. How has your family
supported you in your career so far? How have you been able to manage to push on the leadership role of CTO?
My family, especially my wife, is my pillar of strength; without her support, I couldn't have taken a few life changing twists and career changes. I firmly believe that if you aren't happy at your home, you can never be happy at your workplace, and I communicate the same with my teammates as well. When you start loving your work, it becomes an integral part of your life where you don't have to separate work and life. It goes hand-in-hand.

How do you update yourself with the latest technologies and trends in the IT industry of India?
I'm extremely passionate about technology. To stay abreast of the latest technologies, I depend a lot on online materials like webinars, videos and MOOC courses. I believe that if you want to communicate with your teammates who are deep-rooted in technology, you must speak their language and be able to relate to the constraints they face. In a startup ecosystem, a leader will have to roll up his sleeves and get his hands dirty as the situation demands.

Do you have any advice or suggestions in mind for budding entrepreneurs in the same industry?
India's entrepreneurship landscape is transforming rapidly. Youngsters are willing to take risks and are revolutionizing the face of Indian business. My piece of advice to emerging entrepreneurs is, if you have a passion for it, then stop wishing and start doing it. You may not be successful at first, but if you are persistent, you'll succeed one day, and everything else will follow.

Shyam Kumar, CTO, Axidio Corporation
A seasoned veteran in the IT industry with years of experience behind him, Shyam has previously worked with some of the renowned companies like Altimetrik, Wipro, Cranes Software, and Sonata Software. He is known for his skills to dive deep into any domain, deconstruct complex problems into simple constituent business processes, and come up with a technology solution matrix.

Favorites:
Reading Books: Books are his good friends.
Travel Destination: He loves traveling and exploring new places with his family.