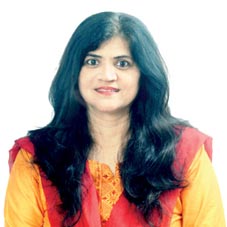 The Indian infrastructure development and construction industry play a crucial role in ensuring that the country can cater to the demands of its increasing population. TechSOFT Engineering Services is a unique entity that is operating in the Indian infrastructure development market and the company is involved in the manufacturing, sales, as well as the distribution of top-notch software for the development of infrastructural facilities. Headed by industry stalwart Sangeeta Goswami, the company has made impressive strides in the market and owing to the quality of their services, TechSOFT has been able to create a niche in the industry.
In an exclusive interview with CEO INSIGHTS, Sangeeta Goswami talks in detail about TechSOFT Engineering Services and their operations.
Kindly give us a brief overview of TechSoft Engineering Services and its operations?
TechSoft Engineering Services was formed in 1997 as a group of engineers and professionals involved in the business in development of high standard engineering software-suit for well formatted engineering design reports, sophisticated & detailed construction drawings, cost estimation as requirements of the bid documents for construction of infrastructure projects and provided to clients worldwide.
TechSOFT distributes software-suits for their engineering applications in infrastructure development projects and provides support to users with technical services. The software products and service deliverables are of the best class in international standard and are being used in various parts of the world including the USA, West Indies, Europe, Africa, India, Bangladesh, Nepal, Bhutan, Dubai, Afghanistan, Malaysia and many other countries.
We provide technical support services for the engineering design and consultancy to the clients by producing detailed reports, estimation and drawings for Feasibility Studies, Detail Engineering Design, Construction Drawings and Cost Estimation to fulfil the essential requirements of the Bid Documents. We are into the development of Federal Highways, State Highways, Rural Roads, Urban Transportation Improvement projects, Township development, Railways & Metro Rail Transport System, Industrial Structures, Hydel & Thermal Power Projects, Irrigation
Projects Financed by International agencies, Domestic agencies, and Private concessionaires. Over the years, we have worked with Govt. Departments, Ministry of Road & Transportation, Public Works Departments, Railways, Metro Transport Systems, Urban Infrastructure, Town Planners, Engineering Universities, Contractors, Consultants, Surveyors, and individual professionals to name a few.
Over the years, we have worked with Govt. Departments, Ministry of Road & Transportation, Public Works Departments, Railways, Metro Transport Systems, Urban Infrastructure, Town Planners, Engineering Universities, Contractors, Consultants, Surveyors, and individual professionals to name a few
Being a well-known infrastructure management service provider in India, what benefits do you offer to customers that other companies in the market fail to deliver? Explain your USP?
Our Software products have features like construction drawings and details which are rare in other products. The drawings are in CAD format and editable as desired. The drawings are the final technical materials for various constructions. Another important point is the most reasonable and affordable price for the users in the industry, academic institutes and individual professionals.
TechSOFT has a team of highly qualified professionals and technical staff that combine to form dedicated project teams drawn from relevant disciplines to service the requirement of each project. These multi-disciplinary teams enable us to provide services to different agencies to meet the requirements of emerging projects in the Transportation Infrastructure, Town Planning, Industrial Structures, Irrigation, Water Resources & Management, Hydraulic Systems and Information System as a result of opening up of the economy in the country.
We focus on providing economic and time-bound consultancy services with the objective to blend modern technology with local skills and materials to fulfill the clients' needs. The consultancy services offered range from Pre-investment, Techno-economic feasibility studies to construction supervision, project monitoring and management as well as continuing advice on special maintenance problems. We give major emphasis on completing the work that we undertake within the stipulated time and at a minimum
cost of support services without compromising the quality of the production. Also, our teams operate under strict management supervision by very seniorlevel professionals and we have a team of engineers and professionals at various levels of experience and qualification.

Tell us about the various milestone projects under infrastructure management services you have catered to in view of your success, be it for governmental or non-governmental projects?
We initially started with the software HEADS Pro and served the massive needs in the highway development projects across the country in 1998. The projects were Golden Quadrilateral, East-West and North-South Corridors, and Port Connectivities to name a few. Later on, we introduced software ASTRA Pro for similar needs in Transportation Infrastructure development projects in India and other developing countries. Our next product HEADS Rail is provided to various users in India and other countries engaged in various railway and metro rail projects. Our other product TransPlan is unique in its kind, to offer the Transport Planners with the most essential features like traffic analysis, economic & financial analysis to determine the project viability as an important part of the feasibility studies. We then introduced software suite HEADS Site with four separate modules applicable for (a) IrrigationWater resources management-design of Hydraulic Structures, (b) Open pit mining projects with Land Acquisition Record Management and satellite applications for estimations of excavations and stock piles with irregular shapes, (c) various applications on Topographic Survey and (d) for design and construction applications in airports, tunnelling, and water supply pipe distribution network to name a few.

What is the current market landscape of the infrastructure development industry in the country and how has been the revenue growth of TechSOFT Engineering Services?
The industry is affected by COVID-19, and expects final supports and other help from the Govts. of each individual country to withstand the massive setback and in turn to support the employees who are the citizens of the country and will be able to survive. The revenue growth depends on the investment by a country in their infrastructure development. The investments in the development of Transportation, Water Resources, Mining, Power sectors, Industrial sectors bring growth in the private sector companies.

Sangeeta Goswami, Director
Sangeeta holds Degree in Economics from Ranchi University and her professional expertise has helped Sangeeta to guide TechSOFT towards sustained success. Her passion to constantly develop and improve herself has been a major catalyst behind the growth of TechSOFT Engineering Services and going forward she is aiming to lead TechSOFT to greater heights.