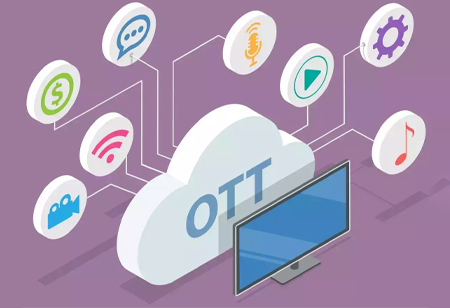 Today, people rely heavily on the internet for practically all of their daily needs, including ordering food. Instead of going to the movies, we have grown increasingly dependent on watching television series and movies online. As a result, there is now intense competition among over-the-top (OTT) platforms. The size of the worldwide online video platform market was estimated at $6.13 billion in 2020, and it is anticipated to increase at a CAGR of 18.4 percent from 2021 to 2028.
Today, OTT also enables users to host videos as needed and stream live videos while simultaneously recording the live broadcast. Because smartphones and tablets can play live or previously uploaded video content anywhere, anytime, the internet video platform is currently seeing substantial traction from portable devices. With its free local language programming, JioCinema, the video streaming service controlled by Mukesh Ambani's Reliance Industries Ltd, is poised to upend the Indian OTT market. This distinguishes it from competitors like SonyLIV or ZEE5, which have comparable content behind a charge.
JioCinema's Recent Acquisition of Warner Bros Discovery Content
Disney+ Hotstar is threatened by JioCinema's recent acquisition of Warner Bros. Discovery content, which includes well-known HBO Originals, and the addition of Universal Studios content. JioCinema is owned by Viacom18 and positions its service alongside well-established competitors like Netflix and Amazon Prime, known for offering high-quality international programming.
As per the reports, most people believe that JioCinema is now seriously competing in the market for premium English content that was previously filled by Disney+ Hotstar, Netflix, and Amazon Prime. This perception has grown over the past several months. Additionally, they are negotiating with other US studios to import more non-Netflix or non-Prime catalogs into the nation.
Major Push to JioCinema
Viacom18, the broadcasting arm of Reliance, and Warner Bros. Discovery have formed an exclusive content relationship as part of a significant push for JioCinema. Beginning the following month in India, JioCinema is planning to broadcast programming from HBO, Max Original, and Warner Bros. The development happened nearly two months after Disney+ Hotstar declared it would stop streaming HBO content. HBO material, including well-known programs like Succession and Game of Thrones, is reportedly unavailable on Disney+ Hotstar. The Viacom18-Warner Bros. Discovery collaboration spans several years. According to this agreement, JioCinema will host premieres of programming from HBO Original, Max Original, and Warner Bros. on the same day as in the US.
"The strategic partnership with Warner Bros. Discovery is a big milestone in our journey to offer the best of Hollywood content to our elite consumers. We believe that Warner Bros. Discovery sets the global standards for premium content, and this partnership allows us to create the best and the most comprehensive destination for our users," says Ferzad Palia, head – SVOD & International Business, Viacom18.
Reliance Industries Ltd. (RIL), Bodhi Tree Systems, and US media conglomerate Paramount Global participated in the merger plan that was completed by Viacom18. JioCinema's integration with Viacom18 was also finished with this merger. JioCinema is aggressively vying for a significant portion of the Indian OTT industry. The site is also improving its original content offerings in addition to licensed content. Over the next 18 to 24 months, JioCinema intends to distribute up to 100 films and television programs that cost Rs.2,000 crore.
By offering free live streaming of the current Indian Premier League (IPL), the portal has already been successful in attracting users. Over the course of the cricket tournament's first weekend, according to JioCinema, the mobile app saw more than five crore downloads. The OTT platform claimed that over 147 billion video views and 10 billion new viewers were recorded during the first weekend alone.
JioCinema & Indian OTT
Jio Cinema successfully challenged Disney+Hotstar's dominance of the Indian OTT environment by conquering IPL rights. Along with losing its five-year exclusivity on IPL rights, Disney also lost the internet streaming rights to the IPL to Viacom18. Disney+Hotstar was outbid by Viacom18 for the internet rights to the IPL for 2023–2027. In the cricket-obsessed nation, the major tournament attracts a sizable audience. In addition to Disney+Hotstar, JioCinema's aggressive strategy is probably going to cause issues for other OTT competitors, including Netflix, Amazon Prime Video, Zee5, and SonyLIV.
According to the reports, the market for online video in India is predicted to grow from $1.5 billion in 2021 to $12.5 billion by 2030 as a result of rising internet and smartphone adoption. It was generally anticipated by industry observers that Amazon, which provides several on-demand video streaming services in India, would partner with Warner Bros. to distribute HBO content in the South Asian market. Additionally, Amazon is now far along in its negotiations to purchase MX Player, a much-liked video streaming service in India. JioCinema is gradually putting itself in a position to provide a subscription model for accessing certain premium material now that the new content agreement is in place.
Warner Bros. has also discovered a wealthy partner in India in Viacom18. The media conglomerate, with its headquarters in New York, has curtailed many of its activities in South Asia recently, including terminating HBO and WB TV networks in India, Pakistan, the Maldives, and Bangladesh.
Clement Schwebig, President—India, Southeast Asia, and Korea, Warner Bros. Discovery, said, "Warner Bros. Discovery's brands are incredibly popular across India, and we are pleased to partner with Viacom18 to bring our premium HBO, Max Original, and Warner Bros. content to local fans. This new agreement demonstrates our commitment to South Asia as we seek to entertain audiences across more platforms and further strengthens the scale of our regional business as a whole."