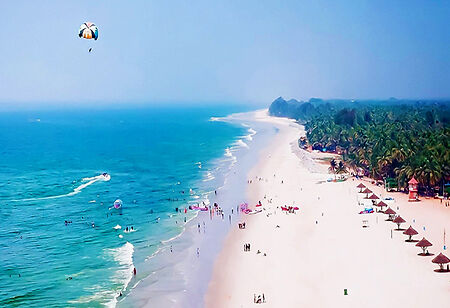 Hailing from coastal Karnataka, I have a soft spot for everything Udupi—guilty as charged. Even my first childhood memory of an outing is near water and temples within the district. Like many other destinations in the country, numerous folklores, unique cultures, and cuisines are associated with every location in Udupi—many compelling narratives. According to Hinduism, Lord Parshurama formed some of India's southern regions by hurling his holly axe into the water.
Located 440 KM away from Bangalore, Udupi is sure to leave a lasting impression on you with many unique spots to visit.
Krishna Temple
It is said that Lord Krishna's last resting place is in Udupi. Madhvacharya built Sri Krishna Temple and Matha in the thirteenth century. According to Hindu mythology, Kanakadasa, a devotee of Lord Krishna, was once turned away from the temple. Kanakadasa persisted in prayer from the outside in his quest to see god. As a result of Kanakadasa's devotion, it is said that Lord Krishna's statue rotated to face him, and a tiny hole appeared in the wall, allowing Kanakadasa to catch a glimpse of the Lord. Kanakana Kindi (window of Kanaka) is presently the name of this location. In addition to the Sri Krishna temple, Udupi also has Chandreshwara and Anantheshwara temples. A large celebration known as Paryayotsava is conducted every two years in Udupi. The temple management switches hands amongst the 'Ashta Mathas' throughout this period. When visiting Udupi, stop by Diana for some delectable Gadbad ice cream as well.
The road and rail connectivity to Udupi from all parts of Karnataka is excellent. Other sights near this location are Maple Beach, St. Mary's Island, Manipal Endpoint, and Kapu lighthouse. The airport in Mangalore is roughly 60 kilometers away.
St. Mary's Island
St. Mary's Island is best known for the four rocky islands at Malpe Beach, which is the second factor that draws tourists to the area. St. Mary's, often called Coconut Island, is also known for its uncommon crystalline basalt rock formations, which were created by volcanic activity millions of years ago. The island's distinctive landscape is a result of these rock formations, making it a sanctuary for those who enjoy geology and wildlife. This geological treasure trove, which is still underdeveloped but has enormous tourism potential, is also home to one of India's 26 geological museums.
Malpe Beach
One of the most famous tourist places in Udupi, Malpe Beach is a natural port, traditionally known for its settlement of the Mogaveera fishermen community here. Now a famous tourist hotspot, Malpe Beach is the first Indian beach that provides free Wi-Fi all day long. There are also several watersport activities at the beach, including Jet Ski and parasailing, among others.
On Udupi Malpe beach, hang back and get a satisfying meal at one of the beach cafes. There are many cuisines to choose from, including Kori Roti Beach Cafe, Malpe Beach Shack, and Fisherman's Bay Beach Cafe. The prawn ghee roast and prawn sukka are two dishes that are highly recommended if you adore seafood.
Kapu Beach
Karnataka's coast is home to the settlement of Kapu. The village's expansive sandy beach offers a sweeping vista of the Arabian Sea. Tourists from all over the world are drawn to the area because of the tropical forest on the bay and the abundance of attractions. The beach, surrounded by vegetation, is the main draw to the area. The 130-foot lighthouse, which has been there for a century, is another major draw of Kapu Beach. Two temples are nearby; one is dedicated to the goddess Mariamma, and the other is a basadi. The 27-meter-tall lighthouse was reportedly constructed in 1901, according to history. You may take beautiful sunset photos with the lighthouse and rocks in the foreground or background. Many filmmakers come to Kapu because of its scenic splendor. There aren't many resorts in Kapu if you want to stay nearby. Kapu can also be reached easily from Udupi or Mangalore town. The Udupi Krishna Temple, Malpe Beach, and Manipal End Point are a few additional nearby attractions.
Mangalore Airport is the closest airport to this location. You will need to travel by road from there. The closest train stations are in Udupi and Mangalore. Also, a 25-kilometer drive from Udupi would get you to Kaup. Kaup is one of the most well-liked tourist destinations in the area because of its breathtaking beauty.
Statue of Bahubali
A must-see attraction is this. In actuality, this statue of Gomateshwara, also known as Bahubali, is the second largest of its kind. Here, in the form of this architectural marvel, is a magnificent relic from the area's colorful past. It is thought to have been constructed in or around 1432 AD by Veerapandya Bhairava Raja, the reigning Pandya Dynasty ruler at the time. The statue was built as a tribute to Prince Bahubali, who spent 12 years fasting and practicing meditation. Every 12 years, an auspicious event called Mahamastakabhisheka is celebrated, during which the statue is bathed in milk, water, and saffron paste.
Barkur
Barkur was referred to as the Alupa kingdom's capital. At the entrance to this place, you will find a 20-foot monolithic stone pillar. The temples had intricate carvings and decorations but are now in ruins.
The twenty-four dents in the stone are the only evidence of the existence of idols of the twenty-four Jain Tirthankaras. According to archaeologists, three principal buildings were constructed between the eighth and twelfth centuries.
Contrary to most South Indian temples constructed in the Dravidian style, the Jain Basadi was constructed by the Alupa monarchs and lacks a gopuram. Stone walls, sometimes referred to as Prangan, encircle the sanctum sanctorum, supported by sloping stone pillars. Stone tablets with animal representations that were added afterward have taken the place of the original Mahavira idol, which was destroyed. The Katthale Basadi features separate altars for Navranga with Nagkamali, Shiva, Vishnu, and Jain deities. It proves the existence of changing kingdoms with various rulers trying to control the city both politically and in terms of religion.